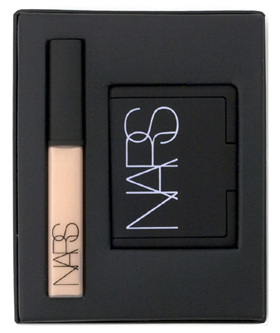 Francois Nars has always been edgy when it comes to naming his shades.
Consider Sex Appeal, a sultry, soft peach that's perfect for livening up pale faces. Or Easy Lover, an ultra-sheer hot pink that makes any pair lips instantly irresistible.
Perhaps most aptly named is Orgasm—one of Nars' best-selling shades and my all-time favorite blush.
Its shimmery pink-and-peach-with-a-hint-of-gold hue is universally flattering, and it definitely leaves cheeks with a (dare I say?) just-had-sex flush. Same goes for Super Orgasm, which also comes in a gloss.
My newest NARS discovery is a gift set–the Striptease Lip Gloss and Deep Throat Blush Duo. I grabbed it to give to a friend for her bachelorette party. However, I have to admit it that it never made it out of my own makeup case.
The gloss lives up to its name—it's essentially nude with just a tiny touch of beige. Great for layering over other colors (I suggest Misbehave or Turkish Delight), it's also super sexy when worn solo. Perfect if you're trying to achieve a barely there, come-hither pout for the bedroom.
The blush is also awesome: similar to Orgasm except matte, so it's a good choice if you like to keep shimmer to a minimum. Like all of NARS' blushes, it goes on soft and smooth, and its creamy texture makes it easy to blend with other shades.
As a set, this duo most definitely gives you a super sensual and suggestive look for behind closed doors. And once again, NARS has nailed it with the name.
---

Susan is a freelance writer, born and raised in NYC and currently based in Brooklyn. She's the senior beauty editor for Meets Obsession, and also writes for online publications such as Mamasarollingstone.com, TueNight.com.
and The Huffington Post. Susan had a serious candle hoarding issue that she has no plans to address. She's currently obsessed with Marc Jacobs' new beauty line, her black Zara moto jacket, and Aaron Paul.
All author posts