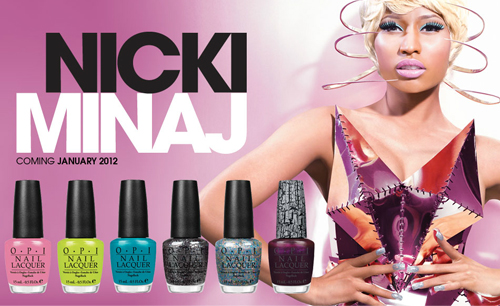 Following the success of her pastel Pink Friday MAC lipstick, rap royalty Nicki Minaj is expanding her cosmetic empire through her latest collaboration with nail polish brand, OPI.
Minaj incorporates her love of all things pink, sparkly, and cutting edge with her line of six nail lacquers inspired by tracks from her debut album, Pink Friday.
"Metallic 4 Life," "Fly," "Save Me," "Did It On Em," "Super Bass Shatter," and "Pink Friday" appear in the mini collection which will debut at cosmetics retailers in January 2012 and retail for $8.50 a bottle.
You can catch a sneak peak of Nicki's assortment of polishes here.
---

Saron is a writer and student born in Ethiopia and raised in Washington, DC. She is incapable of keeping a phone for longer than a few months, exclusively wears Miss. Dior Cherie, and her guilty pleasures include any novel written by V.C. Andrews (don't judge), Essie's "Little Brown Dress", and Stoli. She is currently obsessed with the poetry of Edmund Wilson and The Arctic Monkey's latest album "AM".
All author posts