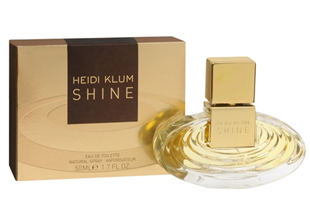 I don't know what it is about Heidi Klum.
Actually, yes I do. She is gorgeous. She's smart. She's savvy. She's married to Seal, is a seemingly wonderful mom, and manages to mix runway model grace with fun and frivolity in almost everything she does.
Simply put, she's not your average supermodel, and that's why I love her.
Now I know that it seems that almost every celebrity is launching a perfume these days.
And it's getting annoying, at least in my opinion. I really miss the days when Liz Taylor's White Diamonds ruled the world of famous-people fragrances, point blank period.
But I have to make an exception for Heidi Klum's scent, called Shine. It's everything I love in a parfume (and I love that word because it sounds so fancy)—sexy, playful, fully present without being overwhelming. But what I love the most is that it makes me smile when I spritz it. And with top notes of mandarin, pink peppercorn and pear, its spicy floral fragrance is perfect for fall.
What's also awesome is that Klum isn't afraid of mass market. Shine is available at most drugstores—as well as online—and retails for $35.
It's a really simple, uplifting scent, and I'm not ashamed to say that I love it.
Nor is Heidi, obviously, who perhaps puts it best: "Shine isn't about something that we see, it's about the way it makes us feel," she says in the official press release for the perfume.
"Playful, sensual and radiant. I realize I'm lucky and that I have so much happiness in my life. My fragrance, Shine, is to be worn by all women who embrace life."
Viva Klum!
---

Susan is a freelance writer, born and raised in NYC and currently based in Brooklyn. She's the senior beauty editor for Meets Obsession, and also writes for online publications such as Mamasarollingstone.com, TueNight.com.
and The Huffington Post. Susan had a serious candle hoarding issue that she has no plans to address. She's currently obsessed with Marc Jacobs' new beauty line, her black Zara moto jacket, and Aaron Paul.
All author posts