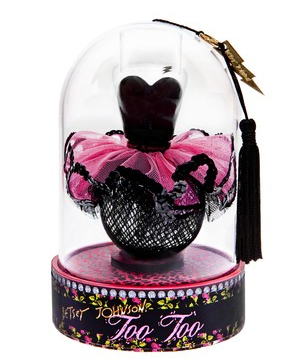 I loved Betsey Johnson's first fragrance, so naturally I was super excited when I learned that she's launching a new one.
Too Too, which will hit Sephora stores next month, appears to be just what you'd expect from Ms. Johnson—playful, free-spirited, and fun. The packaging alone screams of the wonderfully wild and wacky designer: "It could be my tombstone and that would say it all," she told WWD.
I'm certainly excited to give it a try.  With top notes of pink musk and passion fruit, black vanilla and sandalwood (to name just a few), it sounds like a fabulously sweet and sexy scent.
Plus, you have to trust its creator, who is as honest as they come when promoting product. "I have to love the perfume," Johnson says, "otherwise I can't bullshit my way through selling it."
I'm sold.
---

Susan is a freelance writer, born and raised in NYC and currently based in Brooklyn. She's the senior beauty editor for Meets Obsession, and also writes for online publications such as Mamasarollingstone.com, TueNight.com.
and The Huffington Post. Susan had a serious candle hoarding issue that she has no plans to address. She's currently obsessed with Marc Jacobs' new beauty line, her black Zara moto jacket, and Aaron Paul.
All author posts