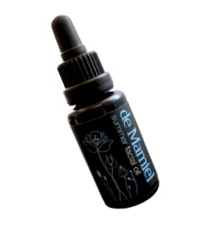 On a recent trip to London, I was lucky enough to receive a fantastic Anne de Mamiel mega-facial, thanks to one of my fellow beauty editor buds. Because getting an appointment is NOT easy.
I tried the Seasonal Attunement treatment, and left feeling like I had a brand new, totally revitalized complexion.
No joke, it was that good. And I basically broke the bank buying as many products as I could to take home with me.
But after just a few weeks, I was out of it all, and jonesing for more de Mamiel.
I weathered the withdrawals for as long as I could until, duh, I checked to see if her stuff was available online. Problem solved.
Anne de Mamiel's Summer Facial Oil is amazing. I love that it's specially formulated for hot-weather issues (there's also one for winter, when those bloody cold months come back). It hydrates, boots circulation, helps heal skin that's been overexposed-to-the-elements; the benefits go on and on.
My favorite part?
The chillaxing essential oils. After you apply (4-5 drops to your face), cup your hands, cover your nose and mouth, and breathe. Deeply.
It's a super stress buster and makes me feel like I'm back at the spa being seasonally attuned by Anne herself.
There are a ton of other benefits to this stuff, as well as a long list of amazing ingredients. A bottle isn't cheap, but in my book, it's a worthwhile investment.
Especially if you're a beauty-loving stress case, like me.
---

Susan is a freelance writer, born and raised in NYC and currently based in Brooklyn. She's the senior beauty editor for Meets Obsession, and also writes for online publications such as Mamasarollingstone.com, TueNight.com.
and The Huffington Post. Susan had a serious candle hoarding issue that she has no plans to address. She's currently obsessed with Marc Jacobs' new beauty line, her black Zara moto jacket, and Aaron Paul.
All author posts