My Dear Beauty Bitch,

My desire to have good eyebrows is almost as intense as my lack of interest in serious maintenance. What's the bare minimum I can do to look more like Frances Bean Cobain and less like Leonid Brezhnev?

Yours,

Lauren O., New York, NY
Dear Lauren:
You're in luck! The low maintenance brow is in right now. "Eyebrows have definitely gone through trends in the past, but lately women have begun to keep their brows more natural with a few little pulls, tweezing, and trims here and there," says Butterfly Studio Salon makeup artist Francesca Roman.
A full brow only needs to be professionally tended to every month. Roman even says up six weeks is passable if hair is light. In between salon visits, just tweeze the new growth that you can actually see and leave the rest alone.
Waxing is also a good option for laid-back brow-tending. It takes about 15 minutes and the results can last for a month. It does, however, have drawbacks. "Wax can be the enemy when a person is on a medication such as Accutane or Retin-A," says Roman. "Even some birth control pills can cause a light layer of skin burn." So steer clear of this treatment if you're on any of these medications.
There's also threading, which has recently become a very popular grooming method and takes very little time—some technicians can complete the task in two minutes. It typically lasts about 4 weeks max.
If you're hoping to avoid the salon entirely, that's fine, but you should go at least once to create a shape that's right for your face. After that, invest in a good pair of tweezers (I use Tweezerman's Slant tweezers), make sure to pluck hairs in the direction that they grow, and if you loose your arch, or any of the shape for that matter, use this tried and true pencil trick.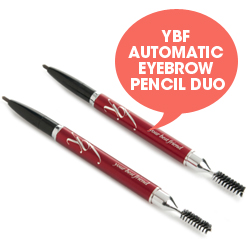 As far as product for easy at-home upkeep, the YBF Automatic Eyebrow Pencil Duo is a no-brainer.
It miraculously matches any color, and with the twist up tip you don't even need to use a sharpener.
And one last-minute trick for the totally lazy (which I've used many times, I'll admit).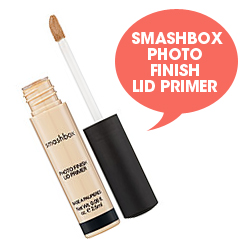 Apply Smashbox's Photo Finish Lid Primer all the way up to your brow, using it more or less like cover-up for new hair growth.
Lightly color your brows with pencil (which will also made new hair less noticeable), then set them so they stay put. It works pretty well, especially for photos.
Dealing with brows really can be a real bitch, Lauren—I feel you. I hope these tips have helped!

Have a bitch of a beauty issue?
Email me at thebeautybitch@meetsobsession.com. I'm dying to hear from you—and know I can help!

---

Susan is a freelance writer, born and raised in NYC and currently based in Brooklyn. She's the senior beauty editor for Meets Obsession, and also writes for online publications such as Mamasarollingstone.com, TueNight.com.
and The Huffington Post. Susan had a serious candle hoarding issue that she has no plans to address. She's currently obsessed with Marc Jacobs' new beauty line, her black Zara moto jacket, and Aaron Paul.
All author posts