Finding solutions to nagging beauty issues can be a real bitch sometimes—am I right?
It's no fun dealing with clogged pores, pesky pits, ingrown hairs, ugly zits—you get my drift. Even I (gasp!) am not immune to a myriad of super ugly—and unglamorous—ailments.
Meets Obsession wants to help. The Beauty Bitch aims to be your go-to resource for whatever ickiness ails you, no matter how big or small, how unsightly or slight
If I haven't suffered it myself, I'll track down experts who can give us solid advice for solving the problem at hand.
So please, email me at thebeautybitch@meetsobsession.com, and we'll get down to some serious beauty S.O.S. business. I want to hear about it all—and come to the rescue!
We're going to kick off this column with our first Q, which is a very common concern:
What's the Bitch?


"How Do I Deal with My Super Oily Skin?"

-Jane A., East Orange, NJ
Dear Jane,
It's a common beauty bitch. And I know about this one, as my face has been a slick, shiny mess since high school.
It's more-or-less under control now, but I did have to change the way I thought of—and cared for—my face on a daily basis. If you want long-lasting results, you will probably have to do the same.
Of course, there are also some good use-as-needed, shine-stopping solutions that I'll share—because if your skin is naturally oily, you never know when that extra gleam might strike. No matter how well you wash.
And I say "well" versus "often" because rule number one is don't over-use anything. Just because your skin is extra oily doesn't mean you should to apply extra product to fix the problem. The opposite, in fact, is true, because washing your face too frequently will actually produce MORE oil, not less. (You strip the skin of the sebum it's so used to naturally producing, so it gets confused and thinks it needs to make more.)
But while you shouldn't overdo it, you do have to be diligent. This may take some discipline (it certainly did for me, I can be as lazy as they come), but settling on—and then sticking to–a daily skin cleansing regimen will truly help in the long run.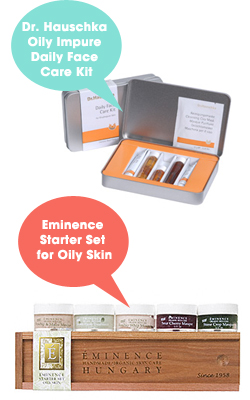 Oil-Combating Cleansers
I'm a big fan of Proactiv—it not only mops up my oil and rids me of zits, but the system is so easy to follow.
It was like skin care boot camp for me, and now, following its three steps in the morning and at night has basically become habit.
Of course, there are many other good cleansers for oily skin. Just make sure you give them a good college try (meaning a few weeks) before judging their effectiveness. It can take awhile to see results.
One note: even if you're skin isn't acne prone, try a product that contains at least 2% salicylic acid.
While it's primarily there to prevent pimples, it's also an awesome oil reducer. (If you find it irritates your skin or leaves your face feeling tight, ditch the idea. There are also oil controlling cleansers without this ingredient.)
Here are two recommendations (which I like because they are travel-sized, so you try them out and order the any of the larger products if you like them).
Dr. Hauschka Oily Impure Daily Face Care Kit
Eminence Starter Set for Oily Skin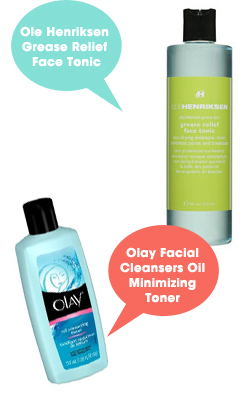 Tried-and-True Toners
Proativ includes a toner in its kit, and I have to admit that at first, I didn't use it.
I'd heard some people say that it's pointless, and maybe it didn't do a thing for them. But if you have overly slick skin, give it a try.
I was super glad that I did, because once I started using it (a.k.a. following directions—why am I so terribly  bad at that?), it made a big difference.
Right away it kept shine at bay for a much longer period of time. Here are two to try:
Ole Henriksen Grease Relief Face Tonic
Olay Facial Cleansers Oil Minimizing Toner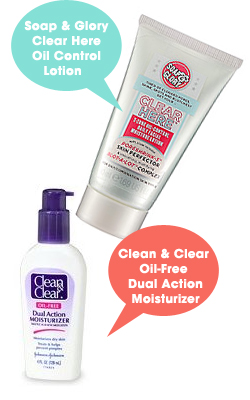 Much-Needed Moisture
You may think skipping this step is to your advantage—why would you want to ADD moisture to your already slick skin?
But you should.
It's important to add back some of the moisture you removed during the cleansing/toning process, and in the long run, it's key for combating fine lines and wrinkles.
Just opt for oil-free formulas, and you'll be fine. A couple of my faves:
Soap & Glory Clear Here T-Zone Oil Control Daily Moisture Lotion
Clean & Clear Oil-Free Dual Action Moisturizer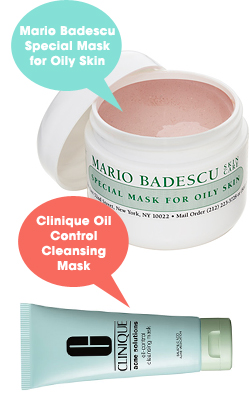 Mattifying Masks
Using a mask once a week can really help keep icky oil at bay.
It's also fun—I love taking a few minutes out of my evening on Sundays to pamper myself. These two formulas are ideal for oily skin, and they also feel fresh and fabulous.
Put your feet up, close your eyes, and pretend you're at the spa.
 Mario Badescu Special Mask for Oily Skin
Clinique Oil Control Cleansing Mask
Find The Right Foundation
Oily skin sufferers need to be extra careful about the foundation they put on their face.
If you wear it, look for ones that are water based (i.e. oil-free) and liquid.
Powder foundations can be problematic for because they don't go on smooth.
Here are two good picks for the oil-prone.
Neutrogena Skin Clearing Oil-Free Liquid Makeup
Laura Mericer Oil-Free Foundation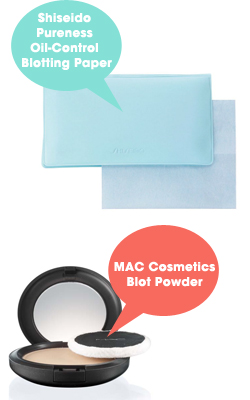 Quick Shine-Fighting Fixes
If you have oily skin, matter how well you care for it, there will always be moments when over-production occurs.
And it's never fun to be the shiniest faced girl in the room. So I make sure to always have two quick-fixes at the ready: blotting papers and blotting powders.
Here are my go-tos:
Shiseido Pureness Oil-Control Blotting Paper
I hope these tips have helped—the oily issue is one I can TOTALLY relate to! I'm so excited to hear what other pesky problems you guys struggle with. So write in! Now! I can't want to assist you, dear readers.
Have a bitch of a beauty issue?
Email me at thebeautybitch@meetsobsession.com. I'm dying to hear from you—and know I can help!
---

Susan is a freelance writer, born and raised in NYC and currently based in Brooklyn. She's the senior beauty editor for Meets Obsession, and also writes for online publications such as Mamasarollingstone.com, TueNight.com.
and The Huffington Post. Susan had a serious candle hoarding issue that she has no plans to address. She's currently obsessed with Marc Jacobs' new beauty line, her black Zara moto jacket, and Aaron Paul.
All author posts