Dear Beauty Bitch:

I love glitter nail polish but it is a super painful process to get it off.

I'll spend hours with nail polish remover and still, it's not completely removed.

Is there some insider tip that I've never heard of to get this stuff off?

I love wearing it but I don't want to spend hours removing it.

Lakisha B., San Francisco, CA
Dear Lakisha:
Removing glitter polish is such a bitch, I know.
And you're right, I've tried removing it the normal way and it just doesn't work. But luckily, there IS an insider secret that will get it off effectively, (relatively) quickly, and without doing damage to your nails.
Deborah Lippmann—celebrity manicurist and nail polish maven—gave Refinery29.com these four simple tips:
Step 1: Saturate cotton with acetone or polish remover (a remover with acetone works best).
Step 2: Place the cotton on the nail and wrap each finger in aluminum foil. Press down.
Step 3: Leave on for 5 minutes.
Step 4: Pull the foil off and your glitter polish will glide off, too!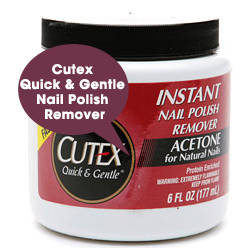 I put these tips to the test, with one of Lippmann's own sparkly lacquers (Ruby Red Slippers is one of my faves) and an added tweak of my own: nail polish remover sponge.
This stuff is an awesome way to remove regular polish—it truly does the job in an instant. So it occurred to me that it might also work wonders for that nitty, gritty glitter.
I tried it two ways: First, with the foil, as Lippmann suggests. I took the sponge out of the container and (carefully—that thing is soaked and will drip) cut it up into nail-sized squares. Then I used the foil to wrap them around each of my glitter-coated fingers, and kept them on for about four or five minutes.
This technique worked 100% perfectly. The Ruby Red Slippers—along with its sparkles–came right off as I unwrapped each piece.
The second way–just soaking my nails with the sponge in the container—also worked, but did take a few extra swipes to get my nails completely glitter-free.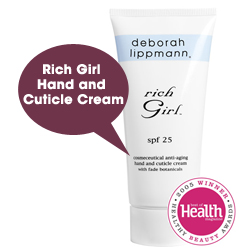 So if you have the time and patience, use the foil—it really is your best bet. But if pressed, or if you don't feel like having to bust out the scissors and play arts and crafts, soaking in the sponge also works well.
And when you're finished removing, make sure to moisturize. Wash your hands thoroughly, and then slather them with lotion. I like Lippmann's own Rich Girl Hand and Cuticle Cream.
I hope these techniques will do the trick for you, Lakisha, so you can keep wearing that gorgeous, glitter polish without worry!

Have a bitch of a beauty issue?
I'm dying to hear from you—and know I can help!
Plus, if your submission is selected, you'll receive an awesome product
tailor-made to treat your problem, compliments of Meets Obsession!

---

Susan is a freelance writer, born and raised in NYC and currently based in Brooklyn. She's the senior beauty editor for Meets Obsession, and also writes for online publications such as Mamasarollingstone.com, TueNight.com.
and The Huffington Post. Susan had a serious candle hoarding issue that she has no plans to address. She's currently obsessed with Marc Jacobs' new beauty line, her black Zara moto jacket, and Aaron Paul.
All author posts