Dear Beauty Bitch:

I've heard time and time again that pimples should be left alone and that popping them is bad.

But then recently my friend said she thinks squeezing her zits makes them heal faster. Which is true?

Thanks!

Lolita L., Oakland, CA
Great question—few beauty problems are more of a bitch than dealing with zits. I too have heard both sides of the "is-it-ok-to-squeeze?" debate, and am still confused.
So I enlisted Renée Rouleau, skin care specialist & celebrity esthetician, to share her expert (and very down-to-earth) advice.
"While I don't advocate squeezing your own blemishes," she says, "it's a reality that people will take matters into their own hands when they get up close to that mirror."
If you must to pop a pimple, take its stage into account. "When the infection comes to the surface via a visible whitehead, then that means that the infection wants to come out of the skin," Rouleau explains. "But this is the only time a blemish should be squeezed—when there is a visible whitehead."
And even in this case, if you can keep the temptation to touch in check, you're better off. You run the risk of causing a rupture under your skin, which can take a long time to heal and might lead to scarring. Not to mention that there's probably a ton of icky, infectious bacteria on your hands that can wreak havoc on your complexion.
If you are someone who is prone to picking, check out Rouleau's super cute No Picking Twisty Toy. Your face will thank you for playing with this gadget in lieu of popping.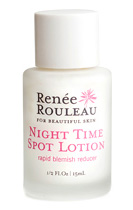 I'd also suggest dabbing a dot of Renée's Night Time Spot Lotion onto any ripe blemish when you're in the privacy of your own home. I LOVE this stuff—it dries out zits really fast, and the lotion works like armor, keeping me from meddling with my face.
Rouleau also points out that it's the post-break-out marks that one really needs to worry about. "A blemish comes and goes within a week or so," she says, "but the dark marks can linger for months." Which is all the more reason not to play with fate and pop.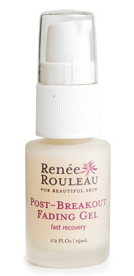 But if you do, check out Renée's Post-Breakout Fading Gel. It contains anti-inflammatories and mild exfoliating acids that fade and lighten dark spots caused by stubborn, overly picked-at pimples.
Lolita, I hope this advice has helped clear things up (pun intended).
In a perfect world, you should never try to self-zap zits (unless you've got a Zeno).
'But who on earth is perfect? Try your best to let your blemishes be, but also know that if temptation strikes, there are some really effective products that can come to the rescue. Thank you, Renée Rouleau!

Have a bitch of a beauty issue?
I'm dying to hear from you—and know I can help!
Plus, if your submission is selected, you'll receive an awesome product
tailor-made to treat your problem, compliments of Meets Obsession!

---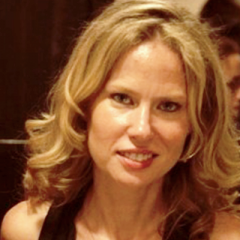 Susan is a freelance writer, born and raised in NYC and currently based in Brooklyn. She's the senior beauty editor for Meets Obsession, and also writes for online publications such as Mamasarollingstone.com, TueNight.com.
and The Huffington Post. Susan had a serious candle hoarding issue that she has no plans to address. She's currently obsessed with Marc Jacobs' new beauty line, her black Zara moto jacket, and Aaron Paul.
All author posts