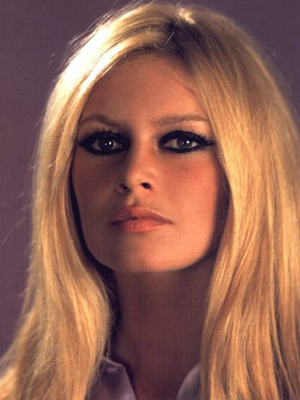 Ah, J'adore Brigitte Bardot.
Then, now, and always.
But it's her wonderfully clean yet super sexy look from the 1950s and 60s that I'm totally obsessed with.
The sultry, smoky eyes, the light, yet always luscious lips. Mon dieu! She's a true beauty icon (in my humble opinion, at least).
Want to capture this old-school starlet's style? Keep reading.
The Beauty Breakdown
The eyes have it here, so simply prep your face with your regular makeup routine—whatever moisturizer, foundation, etc. that you would normally use. Add just a hint of color to your cheeks (I love MAC's Powder Blushes, and light shades such as Buff or Coygirl would work well with this look).
Also, groom your brows as per usual and use pencil only to feel in gaps if needed, not to add color.
Now onto the eyes. To begin, apply a primer to your entire eye area, all over your lid and right up to your brow bone. My new favorite is Benefit's Stay Don't Stray, because it goes on really smooth and truly helps to keep color on the lid, which is key when you're working with a super black shadow.
For your lids, you're going to need a few shades of shadow, so I suggest investing in an all-in-one palette, such as Smashbox's Photo Op Eye Shadow Trio in Dark Room. This way, you'll have everything you need right in one place.
I usually just use my fingers to apply, but most people feel more comfortable using a brush (check out Sephora's Multi-Brush Wand—you get four detachable brushes for just $10).
Sweep the Opal shade across your entire eyelid and all the way up to your brow bone.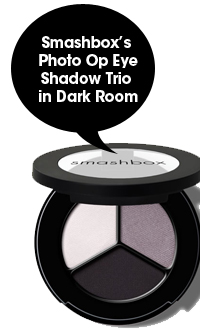 Next, apply the Granite shade to your lid only and blend up to the crease.
Using a new brush (or clean finger), take the Blackout shade and pat on your lid, trying to avoid getting color above the crease. If it gets a little messy, though, that's okay.
Just have remover and cotton swabs at hand so you can clean up unintended smudges and smears when you're done. Make sure to cover all of the Granite color that you applied earlier, which is there to serve as a base to set the jet-black shadow.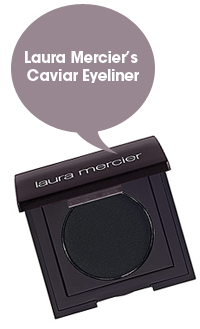 Now it's time for liner. I love Laura Mercier's Caviar Eyeliner and brush, but the duo is pricy.
Sephora's Smoky Kohl Eyeliner is a good, less expensive option. Or if you have a liner you love, use that. Just make sure it's pencil or cream (liquid won't work for this look because it doesn't blend).
Line your lower lashes heavily. For your lid, apply the liner across your lash line, but don't worry about being precise, because you're going to blend that liner with a smudge brush, up to your crease. This is what really makes smoky look smoky.
It's okay if it's little messy—that's part of it's appeal. But do take this time to clean up any real mess, such as shadow that may have accidentally dusted onto your under eye or cheeks.
Once you are satisfied with your smoky eye, curl your lashes carefully (I know, I sound like a broken record, but I will always recommend Tarte's eyelash curler. I truly believe it's the best.)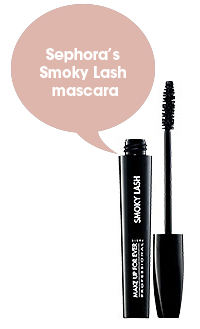 For mascara, you want to use a formula that will create volume.
I recently tried Sephora's Smoky Lash mascara and got good results. Maybelline's Volume Express in Blackest Black is also a slick, thick option. Open your eyes wide and start at the bottom of your lids, wiggling the wand gently as you apply up to the top. You can add an extra coat, but only if you feel you really need it, because you don't want clumping to occur.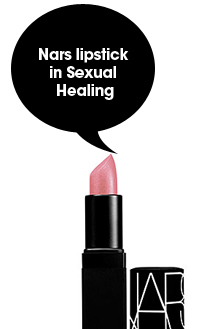 As is always the case when you create a dramatic eye, you'll want to use a light lip color.  Brigitte is rocking a peachy hue here, so I would suggest Nars lipstick in Sexual Healing, followed with a gloss like Sephora's Nectar Shine Hydrating Care in Peach Shine (it's on sale for $3!).
And there you have it—Brigitte Bardot's smoldering, sexy look. Salut beauté!
ONE NOTE ABOUT SMOKY EYE SETS
These are super popular right now, so if you opt to use one, I strongly suggest Lorac's Femme Fatal Collection.
It has everything you need to create the look I just described, and comes with a cool patent leather makeup bag adorned with the Lorac logo. Plus, it costs only $35.
---

Susan is a freelance writer, born and raised in NYC and currently based in Brooklyn. She's the senior beauty editor for Meets Obsession, and also writes for online publications such as Mamasarollingstone.com, TueNight.com.
and The Huffington Post. Susan had a serious candle hoarding issue that she has no plans to address. She's currently obsessed with Marc Jacobs' new beauty line, her black Zara moto jacket, and Aaron Paul.
All author posts