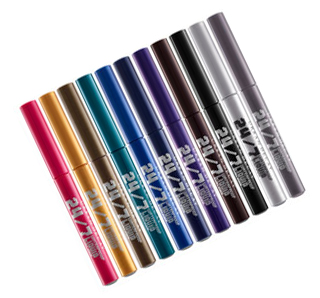 Dare I say that even hurricane Irene is no match for Urban Decay's new liquid liner, from its already awesome 24/7 line?
It's true.
I was lucky enough to try these out in June, and I most certainly put them to the test.
I swam, sunned, hiked, cried my eyes out at a good friend's wedding–you get the idea. Through it all, the liner never budged. I swear on my very healthy, point-filled Sephora Beauty Insider card.
Hell, if it hadn't been a potentially life-threatening endeavor, I would have put it on and let Irene take a stab at smudging it—I'm almost certain she would have failed.
Needless to say, this liner is now a staple in my makeup bag (Demolition is my favorite shade). And coupled with Urban Decay's Cannon Ball Ultra Waterproof Mascara, you've got an awesome one-two eye–prettying punch.
So, if you've been searching for a fail-proof liquid liner for fall, look no further.
This one really works, 24/7.
---

Susan is a freelance writer, born and raised in NYC and currently based in Brooklyn. She's the senior beauty editor for Meets Obsession, and also writes for online publications such as Mamasarollingstone.com, TueNight.com.
and The Huffington Post. Susan had a serious candle hoarding issue that she has no plans to address. She's currently obsessed with Marc Jacobs' new beauty line, her black Zara moto jacket, and Aaron Paul.
All author posts