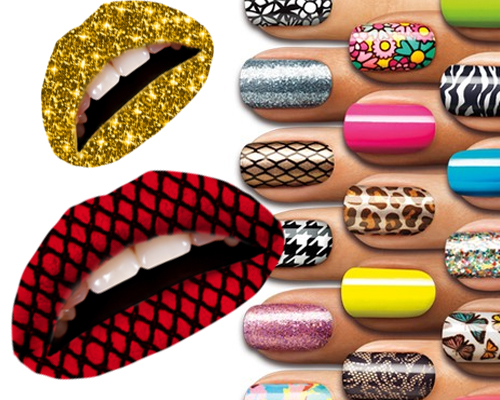 I predict that this summer we will all be stripped nude, shattered, and tattooed–all done with…temporary tattoos and nail polish.
Sounds exciting, no? If yes, then I have a hot treat for you!
Violent Lips Temporary Lip Tattoos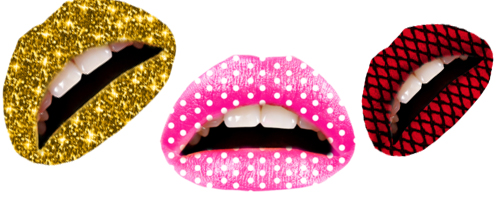 I am not a big fan of tattoos, but when I heard about the Violent Lips temporary lip tattoos I was intrigued. Turns out, I LOVE tattoos in the form of glitter, cheetah, rainbow, and fishnets! They don't chip or leave awful lipstick rings on your drink, and you don't have to worry about having them smudge your front teeth. They're like Sally Hansen nail strips for your lips.
The lip tattoos pretty much work like the fake tattoos we all played with as kids. You match the strips up with your top and bottom lips. Then, cut at the lines where your mouth ends (each strip has handy lines you can pinch so you know exactly where to cut), hold them against your mouth with water, gently peel away, and voila! No mess, no pain of a needle, and they are 100 percent temporary. To remove them all you have to do scrub away.
These are not for the faint of heart. You need some balls to wear bright, colorful rainbows all over your lips. They come in packs of three on the violentlips.com for only $15.
Sally Hanson Salon Effects Nail Polish Strips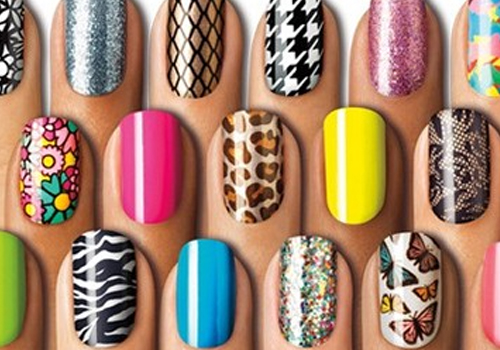 Speaking of Sally Hanson nail strips, have I mentioned how absolutely amazing their new nail product is? An at home DIY, less expensive version of Minx nails, their Salon Effects Nail Polish Strips are perfect for when you're running late and don't have time to wait for nail polish to dry! When I first saw them in the beauty aisle, I came home with a box of each and spent the entire day playing with them. Needless to say, I was in heaven and my nails had an interesting kaleidoscope of leopard, giraffe, fishnet, flowers, and zebra prints.
I can't help but feel the same urge to go and buy their entire Spring collection featuring prints such as the nautical Ay-Ay Captain and, my favorite, the hot pink leopard print titled Don't Get Catty (which satisfies my animal print fetish).
I found that these nail strips are surprisingly easy to put on with no dry time whatsoever! Each strip is sized according to each finger. You pick out the correct size, and pull off the protective film. From there, you press the nail strip down with the cuticle stick (included in pack) so that it perfectly lines up with your nail. File off the excess and add a few top coats for extra shine. And, to ensure maximum universality, the strips have both a rounded and a spared end so that you won't have a problem matching them to your cuticle line.
Sally Hansen nail strips are inexpensive–only $9 for a pack of sixteen, and can be found at Target, or any drug store near you.
OPI Shatter Nail Polish
Hello Harry Potter!
I believe in magic after trying OPI's Shatter nail polish. It's so much fun to watch the top coat dry and instantly crackle over your nail. I fell in love with this line when Katy Perry designed her Shatter colors, and was terribly sad to see that it was a limited edition.
But fret not, OPI has come out with four new colors for Serena Williams's "Glam Slam! France" collection featuring colors all in various shades of blue.
All are to be released this coming May and June. The "Glam Slam! France" collection is possibly my favorite out of them all. I can't wait to pair together the White Shatter with the oh-so sparkly Spark de Triomph.
The application process is simple, but if you're impatient, like me, it can be a bit of a wait.
There are two lacquers, one is the base and the other is the "shatter." In the Serena Williams collection the Spark de Triomph is the base coat. Apply two coats (you don't have to worry about being neat as most of this will be covered) and let it dry completely. This is where the wait comes in, but if you can manage to get pass those few minutes, you will then apply one coat of White Shatter and watch it work its magic. Afterwards, I suggest using a top coat as this polish will dry very matte.
Because this is a limited edition line, OPI Shatter can be found at most of your local salons for a $6.
Jason Wu Nail Polish Set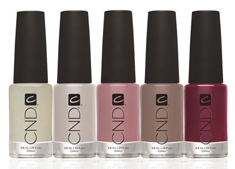 If you're looking for something a little less funky and more neutral, then CND's Jason Wu collection is perfect for you. Comprised of four neutral shades, Brigitte (mauve), Sophia (mocha), Veronica (garnet), and Wu's signature color, Miss Wu (limestone). There also is a top coat called Anna. These colors will be great when you need to tone it down and hide your wild lip-tattooed side while you're at work!
To get the best look, I suggest applying a base coat and two coats of your desired color. This set comes with a top coat that has tiny fibers in it, which causes it to dry matte, and gives a "tweed" kind of look to the nail. I suggest only adding one coat of this.
Jason Wu's nail set retails for about $47 and can be found at various department stores, or at jasonwu.com.
---
Rhi Strayer is currently obsessed with Jeffrey Campbell shoes, sparkles, studs, and anything having to do with Lady Gaga.
All author posts