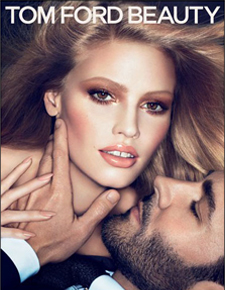 Last year fashion designer (and film director) extraordinaire Tom Ford made his first foray onto cosmetics counters with his Private Blend Lip Color Collection.
He started out simple, mixing twelve classic colors with specially treated pigments, in an effort to prove that he could make the same magic in the world of makeup as he did in design.
"My intention was to do color cosmetics out of the gate," Ford told WWD. "But not everyone else was convinced that I had a voice in color until the lipsticks started selling out again and again."
The collection now a success, Ford is gearing up to launch a full line of cosmetics this fall, complete with glosses, foundation, brow pens, and more. A collaboration with world-renowned make-up artist Charlotte Tilbury, the new assemblage will take on a seventies spin, evoking a Studio 54-ish feeling of bold color and sexy shine.
Ford says his aim is to recreate "the full glossy lips and thick brows, the sparkling eyes and the long flowing locks [of] characters including Jerry Hall, Lauren Hutton, Mariel Hemingway, and Bianca Jagger."
And all you have to do is take a look at the advertising to see this vision come alive. Ford himself stars in the recently unveiled campaign, alongside Dutch Calvin Klein model Lara Stone (whose sensual gap-toothed smile bares a striking resemblance to that of the aforementioned Ms. Hutton. Am I right?).
Personally, I can't wait to dig into the 132-piece collection, which also includes skin care and is set to hit counters in September. If his lipsticks are any indicator, (TF's cherry lush lives in my makeup bag) Ford's upcoming line is sure to be a success—and catapult this multi-talented man into serious icon status.
P.S. Don't forget to set your DVRs! Visionaries: Tom Ford, OWN's in-depth  documentary on guess who, airs on June 24th.
That's right, even Oprah is impressed.
---

Susan is a freelance writer, born and raised in NYC and currently based in Brooklyn. She's the senior beauty editor for Meets Obsession, and also writes for online publications such as Mamasarollingstone.com, TueNight.com.
and The Huffington Post. Susan had a serious candle hoarding issue that she has no plans to address. She's currently obsessed with Marc Jacobs' new beauty line, her black Zara moto jacket, and Aaron Paul.
All author posts