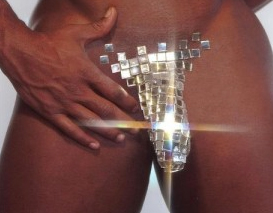 You've heard of "'vajazzling".  Haven't you?
Apparently, men felt like they were missing out on some dazzle, and now thanks to Vejazzle.me, men everywhere can enjoy the newly released "pejazzle", making a more gender-equivalent universe.
These stick-on just for MEN crystals ( if the penis shout-out didn't give it away already) are now available for purchase.
Or, if you want to go for the full razzle dazzle experience, you can go to a salon and have someone else apply them for you on your soon to be bedazzled peen.
Class persists in western civilization. Make sure you don't blind your lover with your 'rocks.'