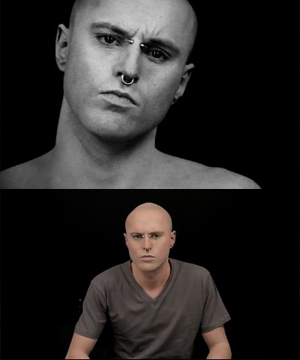 We are a culture of quick-fixes.
Want to color your hair but  hate the commitment? There's something for you!
Have a tattoo you want to get rid of? Try DermaBlend.
That's right, boys and girls. DermaBlend is a concealer that actually erases tattoos!
Say what?
We didn't believe it either until we saw this video of Mugler model, Rick Genest, aka, Zombie Boy trying out the product.
Genest is the new spokesperson for DermaBlend's new Beyond the Cover video campaign that showcases the magic of their concealer. Using their concealer, every single one of Genest's tattoos have vanished; and suddenly Zombie Boy isn't looking so Zombie.
We're thinking of using DermaBlend's magic wand to help us erase those dark circles under our eyes and nasty pimples that come up before our Friday night dates.
DermaBlend, we'll be knocking on your door for a lifetime supply!
---
Rhi Strayer is currently obsessed with Jeffrey Campbell shoes, sparkles, studs, and anything having to do with Lady Gaga.
All author posts