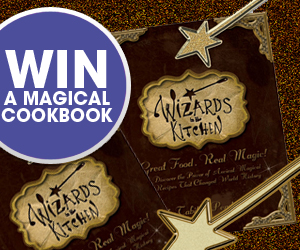 What recipe did Josephine use to seduce famed French leader Napoleon Bonaparte?
What recipe did Leonardo da Vinci discover in a mysterious cave that transformed the unremarkable youth into the world's greatest genius?
What did British convict John "Babbacombe" Lee order for his last meal that enabled him to escape execution, not once, not twice, but thrice?
You can find all of these magical recipes and more inside the pages of Wizards in the Kitchen!
Meets Obsession is giving you, our reader, the opportunity to win your very own magical cookbook and FREE entrance into the official cookbook launch party this Friday at L2 lounge in Washington D.C.
With over 160 pages, this creative cookbook includes recipes for appetizers, soups, salads, entrees, and desserts crafted using real magical herbs, spices, and foods.
The recipes are delicious.  The magic is real.  And the party is to die for.
Winners will be announced Wednesday evening.  So, what are you waiting for?
Submit your details below for an opportunity to win!