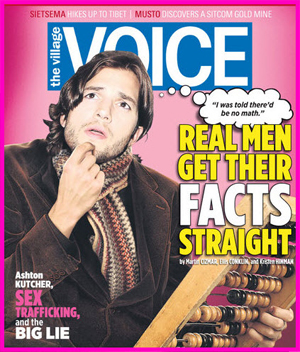 Ashton Kutcher might be known as actor, prankster, and current replacement to Charlie Sheen on the television show, "Two and a Half Men."
But he's also something else: a political activist. He and famed wife Demi Moore started the Demi and Ashton Foundation (DNA) that works to fight against human trafficking. And now Kutcher is in a twitter fight with the weekly newspaper, Village Voice.
The Village Voice recently mocked Kutcher's anti-slavery efforts on their front cover. They accused him of building up the hype over sexual slavery with his "Real Men Don't Buy Girls" internet ad campaign that attempts to educate the public on child sex slavery.
Apparently, Kutcher saw the parody as fighting words, and took his battle to the mighty, Twitter. Sharp barbs were traded by both parties involved, and frankly, it's worth a visit to each party's Twitter account just to check out the newest one-ups.
Kutcher has attacked the newspaper where it hurts–their advertisers. In a recent tweet, he writes directly to an advertiser of the Village Voice:
"Hey @AmericanAir, are you aware that you are advertising on a site that supports the Sale of Human Beings (slavery)?."
Kutcher also tweeted earlier last week to the Village Voice whose classified site, backpage.com, ironically has been linked to a sex trade scandal:
"hey @villagevoice hows the lawsuit from the 15 year old victim who alleges you helped enslave them going?"

"speaking of data, maybe you can help me… How much $ did you[r] 'escorts' in you classifieds on backpage make last year?"
And the tweets keep coming.
According to Kutcher's twitter account, The Village Voice has already lost a few advertisers due to the actor's tweets.