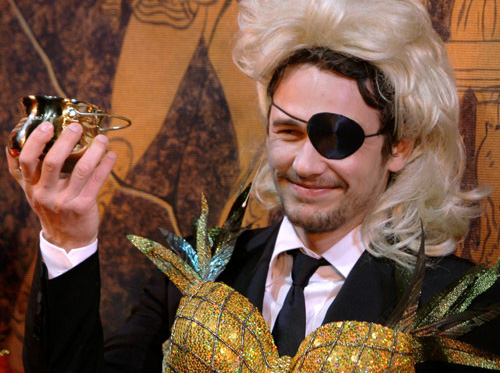 Just when I thought I was done talking about James Franco until after the Oscars, comes news that James Franco will be teaching a class at Columbia College Hollywood about…wait for it…himself.
Yes, boys and girls.  The best students of the Hollywood college get to create a documentary film from James Franco footage to make a movie about James Franco in which James Franco will film and critique. The class is called Master Class: Editing James Franco…with James Franco.
CNN's website states:
The course, taught by Franco's frequent collaborator/editor Tyler Danna, will have 12 of the film school's students creating a 30-minute documentary using footage from Franco's career.


Franco, 32, will provide the footage — largely taken from short films he has directed — and lecture students via Skype as well as attend the class when possible. Each classroom session will also be taped for inclusion in the final documentary.
This is one of those times that I am convinced that the always-so-smug Franco has gone the way of Joaquin Phoenix's social experiment.
What do you think? Is James Franco teaching a class about James Franco a bit too much?
Tags:
Columbia College Hollywood
,
James Franco
,
Joaquin Phoenix