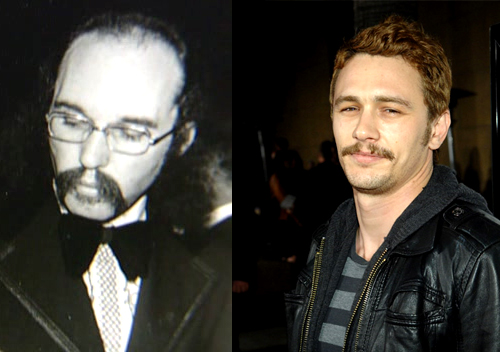 In the last 48 hours, actor James Franco has made national headlines for calling The Social Network "conventional",  showing up in a blond Jessica Simpson-esque wig at Sundance, announcing to the world that he has a sex tape, starting an Oscar rivalry with Colin Firth, producing a Three Company's project, and performing in a video at a bar donning a blonde wig and side-kick.
Apparently, James Franco can't stop inventing things to do and we can't stop talking about him.
In the latest and greatest on Franco, comes news that the actor is in talks to star in a film based on Eric Danville's book, The Complete Linda Lovelace. 
Sources say that Franco will play Chuck Traynor, a pornographer and Linda Lovelace's husband when she starred in the notorious 1972 porn blockbuster Deep Throat.
It is also rumored that Kate Hudson has been tapped to play Linda Lovelace.
The film will be directed by Rob Epstein and Jeffrey Friedman, the head honchos of Franco's indie Allen Ginsberg film, 'Howl.'