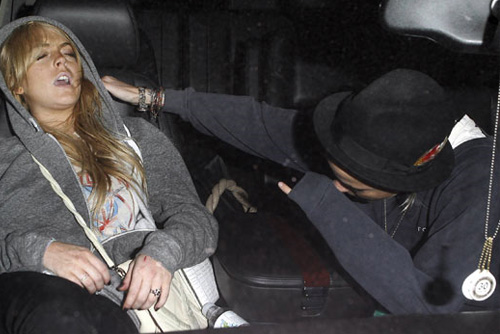 Remember in August 2009 when $400,000 worth of Dior jewelry went missing after an ELLE  Magazine photo shoot with actress Lindsay Lohan?
And then there was the time that she was accused of stealing jewelry from Ariell de Pinto during Paris Fashion Week.
And then there was the $2 Million dollars worth of XIV Karats that she reportedly "lost".
And of course, how can we  forget  fur-gate, the time Lindsay was accused of hijacking of someone's coat at a nightclub.
Surely, it' should be no surprise that Lindsay Lohan, who happened to make our 10 Most Fascinating Hot Messes of 2010 list, is currently under investigation in the possible theft of a $2,500 necklace.
According to RadarOnline, the LAPD asked a Los Angeles judge for a search warrant for Lindsay Lohan's Venice Beach home because they suspected she had stolen a high end piece of jewelry. Following the request, the jewelry in question was promptly returned by her associate.
Furthermore, RadarOnline says of the investigation:
LAPD Pacfic Division Lt. Jeff Bert tells RadarOnline: 'A person claiming to represent Lindsay Lohan turned the necklace into LAPD dectectives at 8:30pm Tuesday night. LAPD began investigating Lohan on January 23rd. The necklace was reportedly stolen from a Venice boutique. If the LA County DA's office files charges it would be grand theft, which is a felony.'
Perhaps Dior, Ariell de Pinto, XIV Karats should start investigation their "lost" jewelry as well.