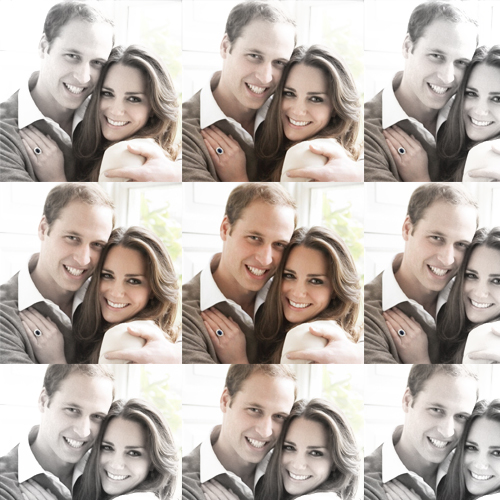 Initially, I wanted to catalog all of the reasons that Americans are crazy in obsessing over the royal wedding between Prince William of Wales and Kate Middleton occurring this Friday April 29.
Why, in bloody hell, would people want to watch anything set to be broadcast at 4am EST?
Then the Royal Wedding Fever struck…
The first symptoms began to show upon my viewing of the Lifetime original gift to film, William and Kate. I guffawed at the horrendous accents and awkward interactions, but whilst I cringed, I Googled every monumental event that occurred in their relationship in the movie to cross reference the events with those in real life.
Was she really wearing a white coat when they went skiing together? Yup.
Was she rowing when he came to tell her he was sorry for everything? Maybe.
Did he propose in a hut in Africa? Sure did.
I was just short of throwing my arms in the air and exclaiming "She was just a regular girl and now she's gonna be an effing Princess! How did this happen? What does it all mean?!"
My fever got worse after I went to the internet to try to prove the utter insanity of royal wedding mania.
I was exhilarated hearing myself pronounce the strange names, wondering if I would ever get close enough into the royal circle to call Prince William "Wills," or hang with Party Animal Pippa aka Kate's maid of honor, or just know someone named Pippa.
Then, I began casually reading Kate's hairdresser's comments on her "do for the big day," where he declared Kate was going natural, and I thought "Yeah, that's totally what she do because her hair is so voluminous and shiny anyway."
Next, I examined the guest list posted on princeofwales.gov.uk to see who made the cut–hello, Beckhams!
But things really took a turn for the worst when  I typed my name into the E! Online Royal Name Generator and became, "Baroness Caroline Ellen Ticky Cullenburton of Potomacport."
Suddenly, I started secretly asking myself, "What IS the plan for Friday? Am I going to stay up till 4am, or sleep a little and set an alarm to watch this wedding go down?"
I realized just as rapidly as it had happened…I had caught the Royal Wedding Fever.
Now I was worrying and thinking, if I am all riled up, what is Kate is feeling right now?
That's when the outward signs began to show. I started speaking in a fake British accent and forcing friends and strangers alike to call me "Baroness," my rightful title.
It was only when I had fully decided that I was going to wake up at 4am for the live wedding broadcast  and was considering composing a congratulations message to Wills and Kate on the official royal wedding website,  that all of the crazy bollocks disappeared.
But we should probably get these bloody kids hitched before I need medication.
---

Caroline Cullen is currently obsessed with Dirty Shirleys, Pauly D's pecks, and Gordon Ramsay's Kitchen Nightmares on BBC.
All author posts