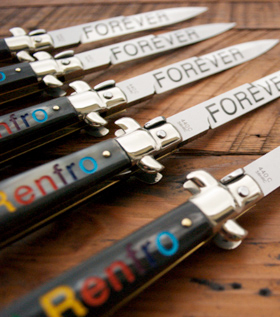 In the latest James Franco project, the actor is selling a switchblade to commemorate his friend Brad Renfro, who passed away in 2008 due to a drug overdose.
Renfro is best known for his work in films like The Client and Tom and Huck, and co-starred with Franco in the 2002 film, Deuces Wild. The switchblade commemorated their time on the film, which was based in the 1950s, where the characters used switchblades.
The switchblade is engraved with the phrase, "BRAD RENFRO FOREVER."
Franco collaborated with both LATAMA Italian cutlery and San Francisco-based Moon Editions, an engraving and printing company to produce the commemorative knife.
Those who had preordered the switchblade before June 23rd were able to purchase it at the reduced price of $100. In addition, Franco has autographed 100 switchblades to be sold. The knives are available for purchase at The Thing Quarterly.