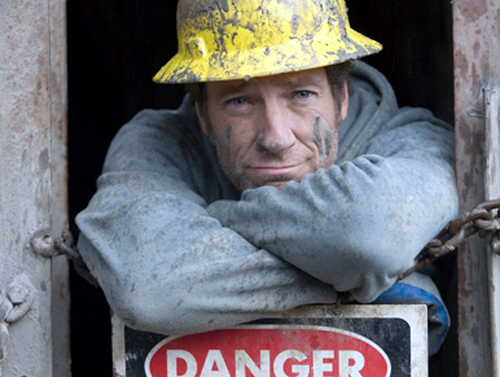 Discovery Channel's hunky host of Dirty Jobs, Mike Rowe has come to be one of the men I lust after unhealthily. While most girls in their 20s can't wait for Ryan Reynold's performance in "The Green Lantern," or wait with baited breath for Johnny Depp to act like a drunken pirate again in the 800th installment of Pirates of the Caribbean, my heart yearns for the next Ford commercial, where Mike Rowe will convert people into Ford drivers and convert me into a nervous school-girl with that charming grit of his that is so attractive, and so damn American.
With one smile you can see yourself high-fiving him while you share a burger at a summer cookout, play baseball, fix a car, and have a slice of apple pie.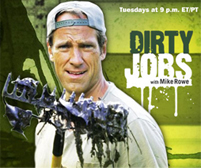 He's easy on the eyes, but that's nothing compared to his all-kinds-of-sexy voice. It's this smoky, sultry thing that's just as perfect for the boudoir as it is for narrating commercials for down-home American products, or a show about heartland American workers.
(Oh, and he's the voice of Discovery's "Human Planet" a.ka. the voice of all humanity…too far?)
In his role as the host of Dirty Jobs, he has traveled all around checking out the shittiest jobs in America, working as a respectful apprentice gutting fish, milking cows, stirring feces, all with a smile. And its the kind of smile that when you look right at it, you see a faint twinkle.
His blue-collar mentality and rough-around-the-edges wardrobe and attitude basically makes me want to have some sort of maggot farm or other gross job so he'll come and find me and ask me with genuine curiosity and admiration how I do my job, and would I teach him my ways.
He's that guy's guy that loves hard work, but would also snatch up a baby or a small dog. He has a tan and wind-chapped face where light, kind eyes pop through. But the best part about him is that he will be extracting the sperm from a rooster using a straw (that episode actually happened) and  smiling about it, even while his ultra-sensitive gag reflex kicks in.
I see that he has some "girlfriend," but my hope is that if he's out there, he will come to my place of work and spend the day with me, see that I drive a Toyota and tell me I should be driving a Ford because that's what America does, and realize, as I wipe the dirt away from his face, take worn-out baseball cap off his head and place it on my own, that he should carry me into the sunset.
---

Caroline Cullen is currently obsessed with Dirty Shirleys, Pauly D's pecks, and Gordon Ramsay's Kitchen Nightmares on BBC.
All author posts