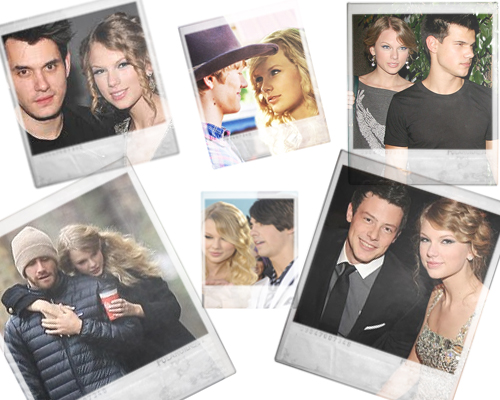 In light of recent events, it is clear that someone needs to give Taylor Swift some dating tips. She continues to drive away hot men and frankly, I'm tired of it.
It seems like years ago that we all learned about Joe Jonas' alleged break-up-via-text-message. Then, we all felt bad for her, because c'mon Joe, that's cold.
Aren't people with promise rings supposed to love thy neighbor?
But now her dating disasters have been consistent and I'm starting to think that it's not them, it's her.
Back in January, MTV News catalogued her dating history, starting with that godforsaken Jonas brother, who after his brutal and terse final words, started dating Camilla Belle instead. The first blow.
Taylor Swift & John Mayer
Next, Lucas Till. Tay starred in the video of "You Belong with Me" with country-boy Lucas Till, who admitted later that the two had something going on.
When their relationship flame was extinguished, he simply said, "We just really both liked each other, [but] most relationships work out 'cause you get along and then you don't, and then you make up and it's passionate. And with us I really just liked her as a friend. That's the only reason that didn't work out." Ouch.
And the list goes on.
Up next, Taylor "Shirtless Twilight Boy" Lautner who co-starred with her in that terrible intersecting lives romantic "comedy" Valentine's Day. They started dating in the summer of 2009 and supposedly called it quits in December 2009.
Qué pasó?
In 2010, it was rumored that T. Swift was dating John Mayer, about whom she penned "Dear John" detailing how she was both upset and surprised that he "messed with" her. Hellooo, of course he is going to screw you over, one look at him and you know. Plus, you know, he got a sleeve tattoo, which signifies that he's no longer a puss and is hardcore enough to date more than one lady.
The lineup of other rumored lovas include Cory Monteith (who plays Finn on Glee) and her "Mine" video co-star Toby Hemingway.
Taylor, girlfriend, lock someone down.
Taylor Swift & Jake Gyllenhaal
Then we have 2010's Fall with Jack Gyllenhaal.
When she spent Thanksgiving with Jake I thought, "OK, snatch up an older dude, get some family time, nice move Tay," then all of sudden things were over. No more strolling amongst the leaves in the crisp fall weather in variations of Patagonia jackets, no more getting coffee at local Nashville cafes.
This brief and fleeting affair leaves us pondering once more, what went wrong?
Now, according to US Weekly, Ms. Swift is going out with hot-ass Country Strong, Garrett Hedlund. How does she continue to hook 'em?
The answer to that question is unclear, but what is certain is that attractive men always seem to take the bait and swim away, leaving her once again with an empty hook. Perhaps my fishing metaphor has gone too far.
All I'm saying is, I've seen her performance persona in concert as well as her "real" self on Ellen, and she is a bit squinty, gangly, and awkward.
However, she is awk with a side of rich and famous, a sprinkle of personal trainer, and a dash of hair stylist.
So you can see how minor flaws get overlooked. Regardless, something goes wrong every time and I am mystified. I think I'll go write a song about it.
---

Caroline Cullen is currently obsessed with Dirty Shirleys, Pauly D's pecks, and Gordon Ramsay's Kitchen Nightmares on BBC.
All author posts