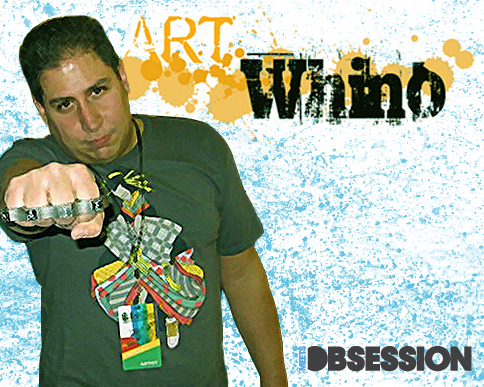 Meets Obsession (MO) asks Shane Pomajambo of Art Whino five questions.
MO: Tell us about your transition from architecture to art gallery owner? How did you know that owning an art gallery was something you wanted to do?
I had no idea I would eventually own a gallery.  I  have always been a collector though.  From Star war actions figures, to Comic Books to Art throughout my ages.  So I guess you can say that I have always been into design.
MO: If you could own any piece of art in the world, for a month, which piece would you own?
The Mona Lisa.  They just discovered a couple more secret messages in the eye last month. I would whip out my magnifier glass and break the code to our existence.
MO: Explain why you opened up a gallery in DC, a city some may call artistically and culturally limited- well, at least compared to NY where you're originally from.
It's every Washingtonians mission to make DC the Nation's capital for everything.  It would be unpatriotic otherwise.
MO: Who's an up-and-coming artist that we should be watching for 2011?
Too many to name!  That's what's incredible about the art world right now.  So many talented people out there pushing the envelope.  Just in DC alone we have over 50 amazing artists.
MO: Adidas or Chucks?
My….Adidas!

walk through concert doors
and roam all over coliseum floors
I stepped on stage, at Live Aid
All the people gave an applause that paid
And out of speakers I did speak
I wore my sneakers but I'm not a sneak
My Adidas cuts the sand of a foreign land
with mic in hand I cold took command
my Adidas and me both askin P
we make a good team my Adidas and me
we get around together, rhyme forever
and we won't be mad when worn in bad weather
My Adidas..
My Adidas..
My Adidas
To learn more about Art Whino, please visit artwhino.com.
Tags:
Art Whino
,
Five Questions
,
Shane Pomajambo