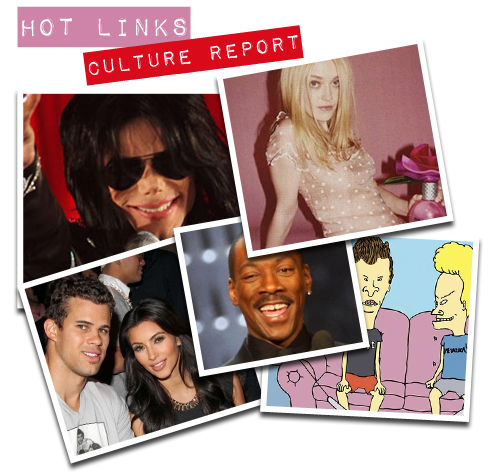 Gaga's workshop window display for Barney's will happen in two days (via Style Caster)
The kid from Jerry McGuire is 21 and buff, but still funny looking (via Jezebel)
Jersey Shore goes to college, and actually winds up in a classroom (via fastweb)
Beavis and Butthead deemed to highbrow for Americans (via Chicago Tribune)
Best thing we've read all week: Welsh rugby player has a stroke and wakes up gay (via Gawker)
In other gay news:
Zookeepers split up gay penguins Buddy and Pedro, (via Jezebel)
And well-known gay rights activists, a penguin couple named Wendell and Cass, have a message for them: (via EP)
The industry is getting soft:
Marc Jacobs's Dakota Fanning Oh Lola! ads banned for being close to child perfume porn (via Telegraph)
Facebook takes down rape joke pages after push back (via digital spy)
More proof that Kim K's wedding was a sham: she's keeping the gifts. Though sources say, KK is very disappointed that no one chose to buy her that $40 BUTTER SPREADER that's still in her registry. (via Fashion INDIE)
The only reason Pitbull's terrible Lindsay Lohan lyric would get a mention in Rolling Stone (via Rolling Stone)
Eddie Murphy no longer hosting the Oscars (via Vulture)
Wanna buy Michael Jackson's deathbed? (via Refinery29)
R. Kelly's new autobiography with a dumb title. Reports say he will be singing the book aloud a-la "Trapped in a Closet" sometime next year. (via RE: GENERATION)
Leo DiCaprio: with great success comes more Romanian lingerie models (via Telegraph)
---

Caroline Cullen is currently obsessed with Dirty Shirleys, Pauly D's pecks, and Gordon Ramsay's Kitchen Nightmares on BBC.
All author posts