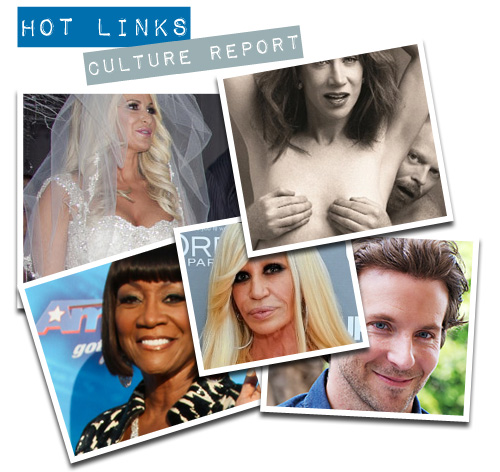 Bad ass artwork for the soundtrack of (and another trailer for) The Girl with the Dragon Tattoo (via Consequence of Sound)
Patti Labelle throws water into a rich baby's face and tells her she wishes she has a horrible life. This actually happened. (via Gawker)
Crazy Courtney Love rant about Dave Grohl (via NME)
Avril Lavigne and Brody Jenner get beat up, Avril shows her injuries. Guess people are still pissed Brody didn't end up with LC (via Idolator)
Kim Zolciak has a $1 million wedding because she says, "You only do this once." Ya, after your kids are in adolescence, you bang a married man with kids known as Big Poppa, and get your wig pulled off on national television. Here's to her golden anniversary (via HuffPost)
This week in Ginger news: Kathy Griffin and the gay guy from Modern Family recreate Janet Jackson's nearly nude Rolling Stone cover for Out magazine (via Daily Mail)
This week in low self esteem:
Kat Von D likes to showcase how many times JJ cheated on her. Kat, you might wanna keep that info to yourself (via yeeeah!)
Donatella Versace doesn't want people who eat modeling her H&M line (via NYDailyNews)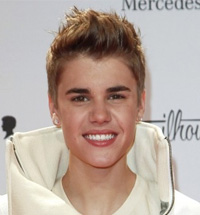 Bieber paternity suit still on, despite the fact that he's growing into a saucy, little lesbian (via Vulture)
Gaga makes another rational decision (via ONTD)
Snooki wants more money from branding, even though she drives an Escalade and shouldn't be famous (via NYMag)
Speaking of people who shouldn't be famous, Rebecca Black releases new video. Girl, haven't you had enough abuse? (via Vulture)
Hipsters go too far and ask for "Hitler Youth haircuts." Someone tell them it's popular and widely accepted and maybe they'll stop (via Jezebel)
2011's Sexiest Man Alive: Bradley Cooper. We demand a recount.  What about a certain guy with the last name of a certain bird (Hint: baby goose) ? Get with it People! (via InStyle) 
---

Caroline Cullen is currently obsessed with Dirty Shirleys, Pauly D's pecks, and Gordon Ramsay's Kitchen Nightmares on BBC.
All author posts