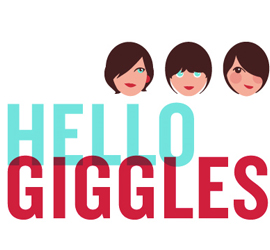 Move over Jezebel, there's a new girl website in town: Hello Giggles, which launched this month.
And this one comes stacked with female powerhouses, such as singer and actress, Zooey Deschanel; Internet sensation, Molly McAleer; and former Hills producer, Sophia Rossi joined forces for this venture.
The new web spot will be filled with funny, sassy, smart and creative content for women.
"We're all avid Internet users, and we knew that there wasn't a site that was exactly what we wanted to visit," the women told Refinery 29. "[We wanted] a mix of sketch comedy and intelligent, interesting writing, and 100% security that we weren't going to be assaulted by unpleasant imagery or attitudes."
A look at the current homepage reveals what they craved: a quick re-cap of the latest Real Housewives of New Jersey bull-riding fiasco, a video of an adorable baby goal, and a witty piece entitled, "8 Tips to Start Dating Smart From a Girl that used to be Dumb at Dating."
Between the celebrity backing and the creative content, this site is sure to be bookmarked on MacBooks and PCs everywhere.