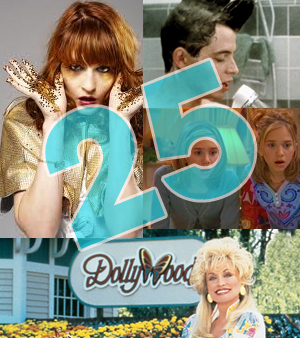 25 is a magical number for me this year.
25th anniversaries are happening all over the place, which means a lot of shi-at happened in 1986.
Let's talk about all of the COOL things that are 25 years old.
Ferris Bueller's Day Off. Need I say more? Anyone…anyone…anyone?
Mary-Kate and Ashley Olsen. I don't know about you, but I stayed in on Fridays to watch TGIF's "Two of a Kind". They really rocked the chokers, zig zag parts, sparkly hair extensions, long skirts from the Limited Too, and some chunky ass shoes.  And now, they may possibly "rule the world". Well done girls.
Dolly Parton's Dollywood—It takes a lot of money to make a place so cheap, gotta visit this before I die…
Rock and Roll Hall of Fame. Righteous.
Geraldo Rivera's revelation of Al Capone's empty vault.
The Oprah Winfrey Show. We miss you big O. Still clinging to your re-runs like a needy girlfriend.
Lauren Conrad—meh.
Lindsay Lohan—I am longing for her "Parent Trap" era, or at the least her "Freaky Friday" days. And I, like everyone else, is sick of her house arrest, pseudo lesbian days.
Arnold and Maria's marriage—yeesh, too soon.
Amanda Bynes—Up top Amanda! You were all that and a bag of chips (why does that expression exist?) on "All That," and I still think you're funny in having recently purchased She's the Man at Target.
Robert Pattinson—I hate his waify, angsty girlfriend, Kristen Stewart, but Robert, you're pretty cool.
Armie Hammer aka the Winklevoss twins from The Social Network—as Brittany Murphy says in Clueless with a Jersey accent, "Break me off a piece of that." He has to be gay. He's just too damn good looking.
Shaun White—He is the Carrot Top of snowboarding, and almost as obnoxious.
Florence Welch of Florence + the Machine—Holy crap Flo you's only 25? Your lyrical content would suggest differently.
Oliver and James Phelps of the epic Harry Potter movies—We know them as Fred and George Weasley. Clutch.
Mischa Barton—Good ole Marissa Cooper. Once you "died" in the television series "OC," everything went to shit. But you really haven't done anything since. Get over your problems and get back into television girl.
Tahj Mowry! aka SMART GUY, whhhaaat? Yo brotha is smawt.
---

Caroline Cullen is currently obsessed with Dirty Shirleys, Pauly D's pecks, and Gordon Ramsay's Kitchen Nightmares on BBC.
All author posts