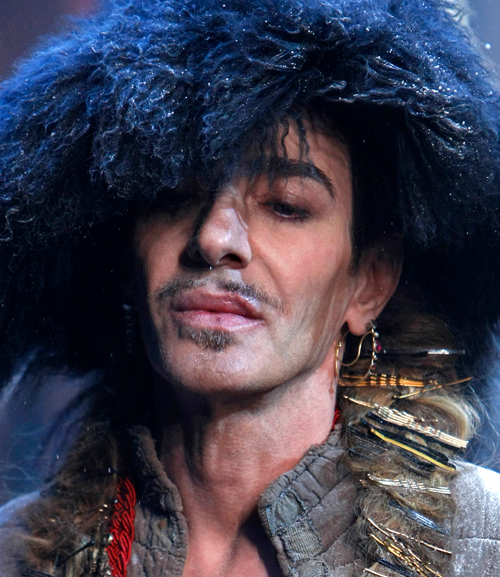 And the Galliano saga continues…
Stephane Zerbib, who happens to be Jewish and John Galliano's lawyer for the last seven years, is also representing the designer in his trial for making "public insults based on the origin, religious affiliation, race or ethnicity." In France,  the charges could land Galliano in jail for a maximum six months and paying a fine of 22,500 euros.
Since Galliano's "I Love Hitler" video will not make it into the trial (according to his attorney), the case may become a matter of "he said-she said."
In a recent interview with Y-Net News, Attorney Stephane Zerbib, who is also receiving death threats, elaborates on the Galliano case and why he is convinced Galliano is far from being racist.
Here's part of the interview below:
Your client is accused of making rather harsh anti-Semitic comments. What is your explanation for this?

"I have no explanation. It could happen to any one of us. Anyone can go to a bar, drink a little and get into a fight with someone."

So alcohol is to blame?

"It's alcohol mixed with medications. You're very vulnerable when you're in this state. People who don't know the case can afford to say things and they all have opinions. It's easy to talk, criticize, be appalled. But these people don't know what really happened."
So alcohol made him do it?
Calling someone ugly, fat, or stupid is one thing, but getting drunk and professing your love for Hitler and reveling in the fact that Hitler murdered over 6 million Jews by threatening  "People like you would be dead. Your mothers, your forefathers, would all be f$@%ing gassed" is a disgusting display of endorsement of one of the greatest stains of our past.
Surprisingly, there are no shortages of Galliano excuses. Fellow designers like Diane Von Furstenberg, Jean Paul Gaultier, Giorgio Armani, and Roberto Cavalli are all coming to Galliano's defense.
Here's what a few of Galliano's colleagues had to say:
Diane Von Furstenberg:

"As the daughter of a Holocaust survivor, I find what he said was absolutely unacceptable. Having said that, I think he was provoked and he was clearly not in a normal state."

Jean Paul Gaultier to AP:

"Everything he has done has not revealed someone who is racist — quite to the contrary….With recordings, people can be made to say things that they did not say. They pronounce some words, but what is the context? The person (speaking to Galliano) seems very assured, knowing very well what she is doing."

Giorgio Armani:

"I'm very, very sorry for him. It's obviously a difficult time for him. I'm also very sorry that they even videotaped him without him knowing and now that's all out."

Roberto Cavalli

"John Galliano? I don't believe it because I know John since many years. He's such a wonderful person. I can't believe that he makes some racist toward somebody, because he's so international…I think that somebody wants to try to be bad with him. I think la Maison Dior should make to him a big red carpet because he helped Maison Dior to be what it is today. I don't want to judge anybody, but I love John. John, I am with you."
Really?  Did they not see the Galliano "I Love Hitler" video?
And how can his behavior be excused without also endorsing his message?
Do they really believe that Galliano was "provoked" into saying what he said?
Which leads me to ask, what in god's name, could anyone say that would elicit a response such as endorsing Hitler's murder of 6 million Jews?
Look, there is no question that Galliano is an extremely talented designer, perhaps even one of the greatest of our generation.
Having said that, is there ANY excuse that can EVER be made for Galliano's words?
Perhaps the only appropriate excuse would be that it was not Galliano seen in the video or that the video had been edited to change his words.
See, Galliano wasn't just expressing his dislike for a particular race or ethnicity of people or even supporting a stereotype- which is deplorable in itself; he went a step further by endorsing one of the largest crimes against humanity, genocide of 6 million souls.
What do you think? Is Galliano being judged fairly?
Tags:
Diane Von Furstenberg
,
Giorgio Armani
,
Jean Paul Gaultier
,
John Galliano
,
Roberto Cavalli
,
Stephane Zerbib