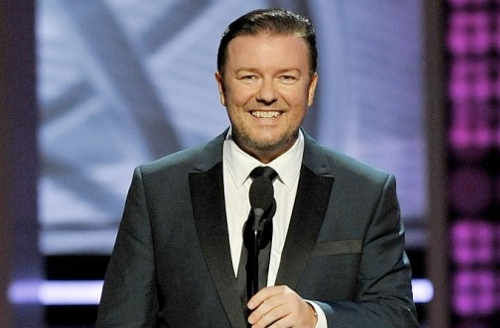 Now that the Golden Globes are over, the buzz is all about Ricky Gervais and his controversial jokes.
During Sunday's Golden Globes Award Ceremony, Gervais took aim at the Hollywood Foreign Press, a closeted scientologist actor, Angelina Jolie, Johnny Depp, Hugh Hefner, Robert Downey Jr., and Charlie Sheen.
Allegedly, HFPA's President, Philip Berk, disapproved of Gervais' performance telling sources:
He definitely crossed the line. And some of the things were totally unacceptable. But that's Ricky. Any of the references to individuals is certainly not something the Hollywood Foreign Press condones.
According to PopEater, one HFPA member said that not only wouldn't he host again, but his future movies won't even be considered for nominations.
I think Simon Pegg said it best when he responded via twitter to Ricky Gervais' Golden Globe comedy act:
Simon Tweets:
Those events need to be off set by self deprecation, otherwise it's just televising an elitist party, to which most were not invited.
If you missed it, be sure to check out the video below to watch  the best of Rick Gervais' jokes at the Golden Globes in one hilarious clip.
What do you think? Did Gervais go too far or does Hollywood need a sense of humor?