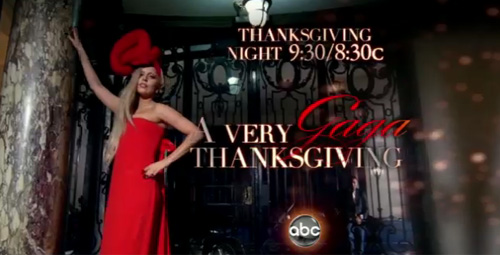 Spikes and heels are quite a way to spend the holidays.
On Thanksgiving, ABC will air its special, A Very Gaga Thanksgiving that will be an event which will give little monsters a reason to stay in after a day of turkey goodness.
The 90-minute special will feature a duet with Tony Bennett, as well as a sure-to-be emotional interview with Katie Couric that takes place at Gaga's old high school, Convent of the Sacred Heart. Gaga has been outspoken about her experience in being bullied in high school; and fans will likely see Gaga get personal in her interview.
No Gaga special will be complete without a performance from the pop icon who will perform her version of "White Christmas," as well as her new single, "Marry the Night."
The whole show was developed and directed by Gaga, so fans can expect it to be gagalicious.
The special airs this Thursday at 9:30 pm on ABC.
Tags:
Katie Couric
,
Lady Gaga
,
Tony Bennett