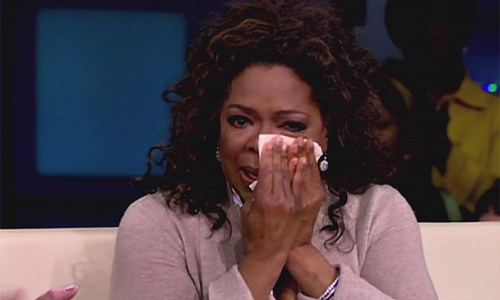 A Tribute after 25 Years of Talk Show Bliss
Oprah it's been 25 years,
And your show never fails to bring me to tears.
Oprah it's been half a century almost,
And you are an irreplaceable buxom host.
Oprah even though your weight fluctuates
My love for you never abates.
You definitely don't like that guy who wrote A Million Little Pieces,
With his lies your anger increases.
Tom Cruise jumped on your couch and acted a fool
But you decided to let him be high and kept your cool.
Gayle is your best friend and your love for her is zealous,
And it's understandable why Steadman might be jealous…
Your voluminous hair reaches way up to the sky
And reaches heaven when, "Go Girl!" you cry.
Sometimes I think about you clapping your hands,
Not knowing the words to the songs of your featured bands.
Or that time you went to Africa and had cornrows in your hair,
Or how you made besties with Whitney, Tina Turner, and Cher.
When you give gifts to audiences for no reason,
I smash things in my house then think, "I'll be there next season."
Too bad your seasons are up and I will never get light blue Uggs,
Macaroons, parkas, watches, or hugs.
With you gone I might turn to the drink or drugs.
At the end of this I didn't mean to be a party pooper,
I guess I'll just tune in and get attached to that new show with Anderson Cooper.
Tags:
Oprah
,
Oprah Winfrey