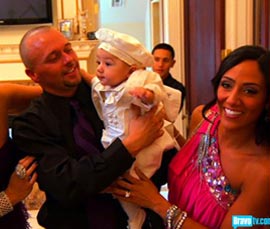 Thoughts inspired by Bravo's Monday night kick-off to this season of RHoNJ.
When my children get baptized, I hope to start the day off at my house from the Godfather Part II with tranny makeup, hairspray, a hot pink dress, and glasses of champagne at 9am to go to a church.
On the way there I will tell my baby he is going to meet Jesus in his kingdom while I straighten his white beret. I will be completely unaware that means I am bringing my baby somewhere where he is going to die.
Following my pregame and the church, will be a gaudy reception with glass crosses hung like ornaments and at least 3 open bars. There will be ice sculptures; definitely everything should look like it's been dipped in gold, gilded roses, yes.
I will go on through the day in my five inchers ordering blended drinks watching my husband and the other dudes who are all named "Joe" in the family taking vodka shots at lunchtime and feel astonished when people start to get slurry, testy and aggressive in the evening.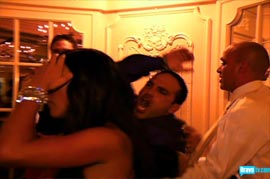 I will swing some punches, people will hold me back from my in-laws whilst small children get in the middle of the tussle.
At some point during the event, either myself or my husband will call someone "garbage," preferably another family member. And hopefully I'll get wasted enough to yell at my ailing father in Italian.
Then I will get in my limo, go back to my mob house, and pat my husband's passed out back while I finish off a large glass of Chardonnay, and whisper, "I'm so happy Giacinto met Jesus today."
---

Caroline Cullen is currently obsessed with Dirty Shirleys, Pauly D's pecks, and Gordon Ramsay's Kitchen Nightmares on BBC.
All author posts