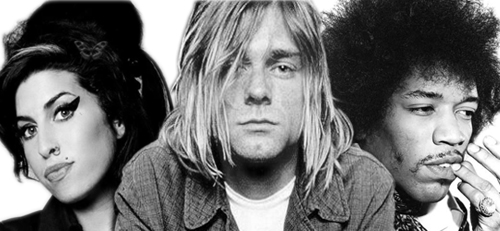 New York City mash-up virtuosos, The Jane Doze,  have decided to pay tribute to the recently fallen soul songstress Amy Winehouse and her fellow '27-club' mates with their newest mix "Forever 27".
The mystery behind the number 27 and the passing of several musicians has been on the lips of many since Winehouse's death, and The Jane Doze decided to channel the curiosity into something different, a mash-up tribute.
The duo opened to blog Idolator about their vision for the track. "We wanted to create a mix that would not only honor Amy's memory, but also those of all the iconic musicians who passed away at the age of 27. Though the musical styles of each artist in this mashup vary, we've fused them together creating a unique tribute to the talent and timelessness they shared."
This 3-minute 14 second mix of artists like Jimi Hendrix, Janis Joplin, The Doors' Jim Morrison, The Rolling Stones' Brian Jones, Nirvana's Kurt Cobain, and of course Amy Winehouse, serves not only as a remembrance, but a celebration of the genius of this eclectic, talented, and troubled group.
---

Saron is a writer and student born in Ethiopia and raised in Washington, DC. She is incapable of keeping a phone for longer than a few months, exclusively wears Miss. Dior Cherie, and her guilty pleasures include any novel written by V.C. Andrews (don't judge), Essie's "Little Brown Dress", and Stoli. She is currently obsessed with the poetry of Edmund Wilson and The Arctic Monkey's latest album "AM".
All author posts