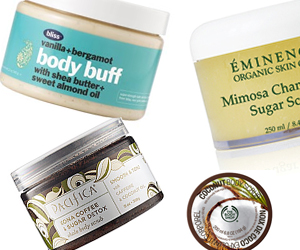 I'm obsessed with body scrubs. No lie, I currently have an entire bathroom drawer dedicated to them.
And I'm not ashamed, because full-body exfoliation is key—especially during summer. It's necessary for getting skin beach-ready and ensuring that you'll get a smooth, even tan.
Of course, I am 100% against bare-backing it—sunscreen is a must! But scrubs actually make SPF application nearly error-proof by sloughing away dead skin cells and dry patches. Before I knew of this fact, I was always the girl with the weird blotchy red spots on my back. Even though I was positive that I applied my sunscreen evenly. Now, I know better
Scrubs also smell incredible, and sometimes I sniff the containers just for the hell of it, as if they were old-timey smelling salts. But that's just me. Like I said, I'm obsessed.
If you're not already a body scrub aficionado, give them a try! You might get as hooked as yours truly. The following are my five current faves: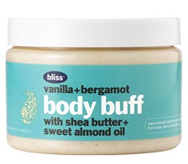 Bliss Vanilla + Bergamot Body Buff
This was the first scrub that I ever used. (Thank you Courtney at Bliss Spa Soho! That Scrubs Deluxe treatment totally changed my life.)
You'll love this stuff if you're a vanilla vamp like me. I like to rub it in head-to-toe before I get in the shower—the formula is extra-exfoliating when your skin is dry—then hop in and rinse off. The scent is deliciously sweet but not overly so, and the moisturizing almond oil and shea butter add additional softness to your exfoliated, glowing skin.
Fresh's brown sugar body scrub is my super-sensory, special shower-time treat. It contains real brown sugar crystals and I swear that sometimes I just want just eat them. The citrus oils are also awesome–they brighten, tone, and leave your skin with a fabulous, fruity scent.
Bonus: Fresh's sugar scrub is all-natural and paraben free. So I actually could eat it if I wanted to, but thankfully I haven't gone that far. Yet.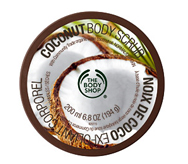 T he Body Shop Coconut Body Scrub
This is a coconut-lovers dream. It contains husks, shells, oil, and milk from the fruit (yes, it is a fruit), which all combine to create a super creamy scrub. There's also an added dash of babassu oil, which keeps skin soft hours after you've showered. And the smell is pure coconut bliss.
Plus, it's only $10 bucks—a skin-smoothing no-brainer.
Eminence Organics Mimosa Champagne Sugar Scrub
I've already gone on about my love for Eminence Organics. The line is so lovely—and totally, completely eco—it's hard to resist any of the items they have to offer. But so far, their sugar scrubs are my favorite. And the Mimosa Champagne sugar scrub tops my list.
It's so light, and its anti-inflammatory properties are perfect for people with sensitive skin. It does its scrubbing duties well but doesn't aggravate in the process.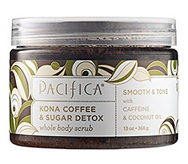 Pacifica Kona Coffee & Sugar Detox Whole Body Scrub
Body scrub virgins beware; this may not be your best right off the bat. I'll be honest, it's not pretty when you apply—you literally look like you've rolled around in a vat of Folgers' Crystals. And the caffeinated grains are definitely intense.
But that doesn't mean that this stuff isn't good. In fact, it's great. The coffee scent instantly awakens the scenes, and the vitamin-rich, omega-3-filled coconut oil moisturizes like mad.
And as a morning ritual, this stuff can't be beat—it's like bringing a double espresso right into the shower.
Just proceed with caution. Like coffee, this scrub is an acquired taste.
---

Susan is a freelance writer, born and raised in NYC and currently based in Brooklyn. She's the senior beauty editor for Meets Obsession, and also writes for online publications such as Mamasarollingstone.com, TueNight.com.
and The Huffington Post. Susan had a serious candle hoarding issue that she has no plans to address. She's currently obsessed with Marc Jacobs' new beauty line, her black Zara moto jacket, and Aaron Paul.
All author posts