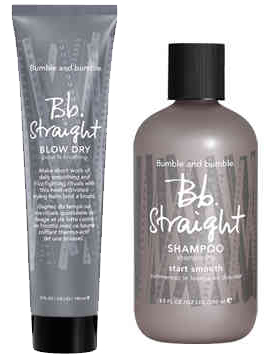 When it comes to blowing out my hair at home, I need all the help I can get. I've searched high and low for the perfect product to tame my mega curly mane, and luckily I have found a few that I love.
John Frieda's Frizz-Ease Straight Fixation Smoothing Cream works really well, as does Davines' heavenly scented Momo Anti-Frizz Fluid.
But right now, I'm obsessed with a brand-new bunch of kick ass frizz fighters: Bumble and Bumble's Straight Line.
The trio of products consists of a sulfate-free shampoo (key for protecting my color) and a conditioner, but it's the balm that I'm really infatuated with. Mostly because it's so lightweight, which is rare when it comes to straightening creams. And the results really do last until my next shampoo. Many products make that claim, but I've found few that really deliver.
Yes, it's a bit pricey—buying all three products will cost you close to 100 bucks. But in the end, it's worth it.
You'll spend less money on blowouts at the salon, and you only need to use a small amount of the Straight Blow Dry balm in order for it to do its job.
And, if I may, I'd suggest adding Bb's Brilliantine to your basket. I've always loved the sexy, slept-in look this crème gives my hair, but I've learned it works especially well after using my new favorite blow-out balm.
---

Susan is a freelance writer, born and raised in NYC and currently based in Brooklyn. She's the senior beauty editor for Meets Obsession, and also writes for online publications such as Mamasarollingstone.com, TueNight.com.
and The Huffington Post. Susan had a serious candle hoarding issue that she has no plans to address. She's currently obsessed with Marc Jacobs' new beauty line, her black Zara moto jacket, and Aaron Paul.
All author posts