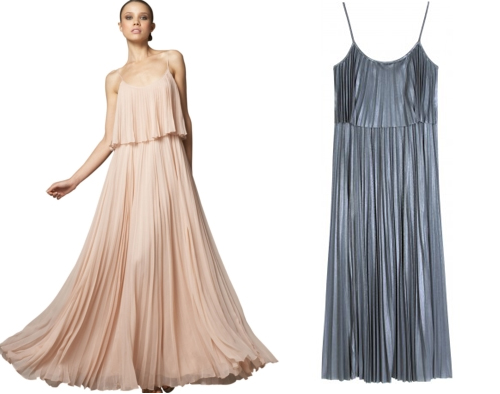 I dream about this dress.
A lot.
Last night, for instance, I had a pretty dream of me dancing with Fred Astaire in this dress. He called me Ginger and placed his hands on the small of my back. And in a New York minute, we were sailing through a white marble floor, and my dress was the air beneath us.
Yea, I looked good. Real good.
I know it's vain—but I can't seem to get away from the soft chiffon.
Last weekend, I was watching Sex in the City 2 and Carrie Bradshaw was wearing this dress, except in lipstick red and made of silk. She was strolling barefoot along an Abu Dhabi beach, mid sunset.  Just another day…
How good would I look strolling through Abu Dhabi, mid sunset? How good would I look vacuuming in this dress?
The universe is sending me a sign. I need to buy this dress.
Tags:
Halston Heritage