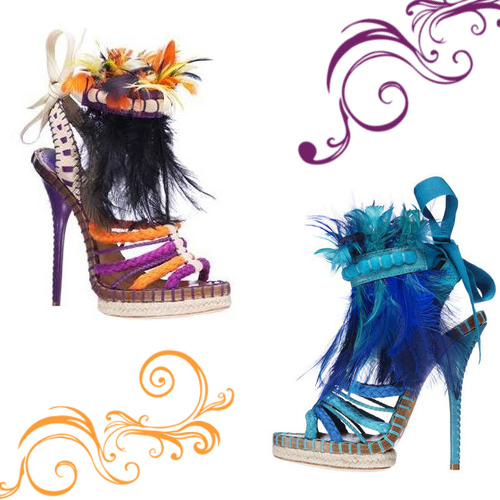 Have you ever been so obsessed with a piece of clothing that, instead of working, you find yourself distractedly staring at its picture?
That's how I have been ever since I saw these Christian Dior Tahiti Feather Sandals in Harper's Bazaar.  The feather sandals are so eccentric and I can't help but sit here and daydream about running around in them on an island surrounded by palm trees and pretty colors.
But, sadly I do not have a beautiful island to frolic around on, so I would probably wear these with something a bit more monochromatic.
Since these shoes are so intense, they would best be paired with a simple little black dress and a few bangle bracelets. Island or not, that outfit would make you the center of attention wherever you go!
And you don't have to conform to just that one outfit, either. The Tahiti Feather sandals come in multiple neon colors like electric blue and canary yellow. If I could, I would own every, single pair.
Seriously, I could be in danger of flying away with all my feathery accessories; Feathers in my hair (thank you Steven Tyler)…in my ears…on my neck…and now my shoes.
I am completely, and utterly, infatuated with the brilliant insanity of the Christian Dior Tahiti Feather Sandals. The feathers, the multiple straps, the crazy bright colors!
(Dramatic sigh.)
I think I'm in love. Oh Dior, you have stolen my heart away with your shoes. The only thing that could possibly make them better would be sparkly studs, my other current obsession.
But, then again, I might die of sheer happiness if that were the case!
Tags:
Christian Dior
,
Christian Dior Tahiti Feather Sandals
,
Dior