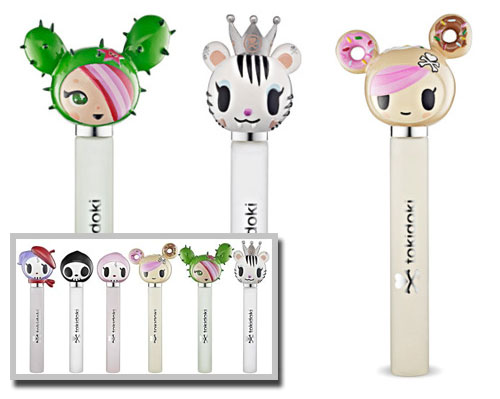 "Criminally cute" is right. Tokidoki, which has given us everything from insanely cute USB drives to pink haired Barbie dolls, recently unveiled this awesome, limited edition line of scent sticks.
And I'm obsessed.
All of them smell great and are perfectly sized for your purse. And they are so cute, verging on semi-sick—I defy you to find a Tokidoki fan that doesn't think they are totally charming.
I love them all, but my favorite is Siberia.
It's a fantastic smell for fall—lightly spiced, subtly musky, and chock full of warm, wistful notes that are perfect for colder weather.
But then Adieu is also really nice, with its notes of blackberry, water lotus, and vanilla.
And you could never go wrong with Donutella, which contains terrific touches of raspberry, bergamot, and sandalwood.
So I suppose I don't have a favorite after all—which is fine. If you're not sure which of these precious perfumes you like the most, you can purchase a sampling of all six for $18.
Or pop into your local Sephora and give them a sniff. I'm pretty sure you'll find at least one—if not two, three, or five—of these fragrances irresistible.
---

Susan is a freelance writer, born and raised in NYC and currently based in Brooklyn. She's the senior beauty editor for Meets Obsession, and also writes for online publications such as Mamasarollingstone.com, TueNight.com.
and The Huffington Post. Susan had a serious candle hoarding issue that she has no plans to address. She's currently obsessed with Marc Jacobs' new beauty line, her black Zara moto jacket, and Aaron Paul.
All author posts