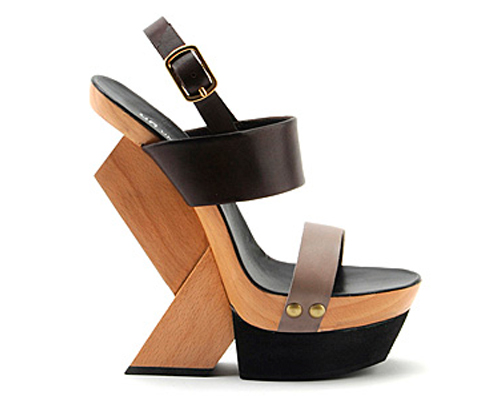 It's been months since we've written a Current Obsessions, and if anything  was ever worthy to be obsessed about, it would be United Nude.
United who, ask you?
United Nude is just about the most fabulous architectural shoe your foot may ever wear.
The brand is the brainchild of architect Rem D. Koolhaas and shoemaker Galahad Clark.
The story goes that Rem started his shoe design journey in an "attempt to get the girl back" after a broken heart by "downsizing architecture to its smallest and most vulnerable scale, that of a woman's foot."
How come so much fabulous shit comes out of pain and sadness?
Perhaps Wired was right when they said that sad and blue people trump in the creative department.
Just ask Vincent Van Gogh or Kurt Kobain.
It's all in the heel for United Nude.
Cut-out, curved, angled, zigzagged, blocked, coned, and spiked are some of the shapes you'll find in their uniquely structured heels, and many of United Nude's shoe silhouettes, you've probably never seen before. That's why we love them!
And the best news?
You can own a pair for a little over $100! And sometimes under $100 if they're on sale.
United Nude shoes can retail from $100 to $1300, which makes the lower end price of the shoe affordable for almost anyone.
Known for mastering balanced composition and architectural detail, the conceptual and often abstract United Nude shoe is fit for any style maven.
We're totally, absolutely, madly, and wildly obsessed.
Here are a few of our favorites from the United Nude Spring 2011 collection.