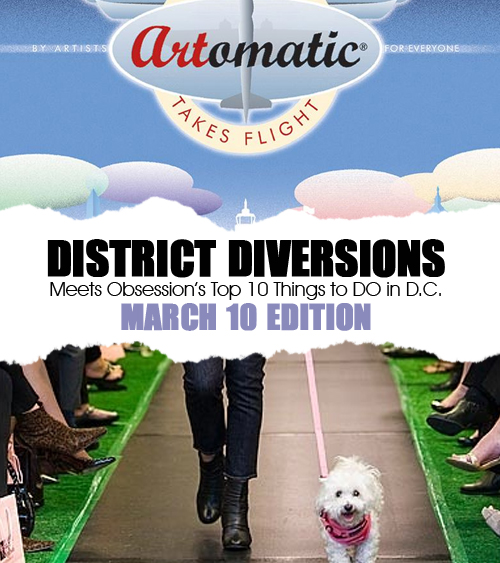 Meets Obsession's Top 10 DC-DO's

Exhibit & Reception: Opening Reception: Artomatic Takes Flight
Artomatic Takes Flight opens at the Gallery Walk at Reagan National Airport on March 10 as part of the Metropolitan Washington Airports Authority. The exhibit showcases an un-juried selection of work by 81 artists in Washington DC's creative community.
Artists featured in Artomatic Takes Flight are past participants of Washington, DC's signature Artomatic arts event. Art work for the exhibit was submitted by artists on a first-come, first-serve basis, from a group of over 1500 Artomatic artists in Washington DC's creative community.
Fashion Benefit: Critters (and Couture!) Fashion Show Gala
This unique event will benefit the Critters Patient Treat Assistance Fund, which assists metro-area women battling cancer.
During this extraordinary event, attendees will be treated to gourmet fare by Clyde's, Capital Grill, Luigi's, and Bertucci's, champagne and a luxury raffle, dutch appeal, and a live auction, while beautiful women cancer survivors and their furry companions work the 'catwalk' in spring fashions by Bloomingdale's, along with Doggie Couture of New York.
Critters For The Cure™ will be honoring Senator Barbara Mikulski  for two decades of  outstanding support with women's health issues. We will also be honoring a team of outstanding doctors  with special "It Takes A Village" Service Award.  During this event, we hope to raise women's cancer awareness and much-needed funds to fight a disease that has personally touched so many in our community in one-way or another.

Film: WFI @ DC Independent Film Festival: Cine Latino!
Film screenings of The Wind (Vento), Red Fish (Peixe Vermelho, The Advantage Of The Hitman (La Ventaja Del Sicario), They Are Not Invisible (No Son Invisibles), It's Better When You Hear It (Es Mejor Escucharlo)and The Dance (El Bailer) at the GALA Hispanic Theatre.
Launch Party: Haughty Cosmetics Launch Party Benefiting Becky's Fund
Haughty Cosmetics will premiere their new makeup line at Hudson Restaurant  in  Washington DC! From 6 – 9 pm, guests will be able to try out new products, nibble on delicious foods by Hudson Restaurant, and imbibe some very tasty beverages by Absolut Vodka while learning more about domestic violence and the work that Becky's Fund is doing to prevent this epidemic from growing.
In addition, to make the evening even more spectacular, DJ Las Bandidas will be spinning!
DJ Las Bandidas comes to you all the way from London's legendary Bungalow 8 where she was the venue's weekend resident DJ catering to the nightclub's celebrity clientele before moving on to spin at the hottest spots in Paris, Madrid, Barcelona and now Miami and DC.
Beauty Benefit: Tigerlily Foundation Spa for a Cause Kick-Off
Event proceeds will go to support Tigerlily Fuondation, an organization whose mission is to educate, advocate for, empower and provide hands-on support to young women affected by breast cancer. Funds go towards educating women and girls, women in treatment who need financial assistance, meals, buddies, education and empowerment.
Guests will enjoy hors d'oeuvres, delectable desserts, and mini spa treatments. The first 50 guests will receive a gift bag.
Music: OMD@ 9:30 Club
Naming themselves after an obscure VCLXI song, Humphreys and McCluskey launched their own unique style of catchy electronic melodies that helped form OMD's reputation for intelligent pop. Back then, to burden your band with such an unwieldy name as Orchestral Manoeuvres In The Dark might have seemed somewhat unwise, but the obvious commercial appeal of their music provoked enough interest that it eventually led to Factory Record's supremo Tony Wilson offering them the chance to cut their debut single 'Electricity' on the Factory label.
'Electricity' (and its flip side 'Almost') perfectly captured OMD's infectious blend of melody and melancholia. 'Electricity', with its frenetic dance rhythm, rapidly became OMD's theme song and maintained its status as a live favourite right into the 1990's. Attracting the interest of Virgin, OMD signed to their subsidiary label Din Disc in 1979. An advance from Din Disc enabled the band to plough the money into building their own studio (situated close to Eric's Club) where they could continue writing and recording new material. This included their self-titled debut album which was released the same year.
After a brief period of touring, notably as support for Gary Numan, OMD quickly established themselves with a number of classic singles. 'Messages', with its simple but infectious melody, managed to get OMD into the public eye in 1980 by reaching No. 13 in the UK charts. Later the same year they made No. 8 and scored their first international hit with the dance pop of 'Enola Gay' – an up tempo number inspired by the plane that dropped the atomic bomb on Hiroshima. This bizarre style of wrapping pop songs around unusual ideas was something that OMD were to prove to be quite adept at throughout the band's career.
The success in 1980 helped OMD to rapidly become one of the UK's premier pop acts. Their initial use of extra personnel for live performances led to Humphreys and McCluskey recruiting people in the studio as well. After some initial line-up shuffles, the band soon established itself as a four piece outfit with the assistance of Martin Cooper (keyboards, saxophone) and Malcolm Holmes (drums) who were both friends from pre-OMD days.
Film: Launch Party for the Environmental Film Festival in the Nation's Capital
Open Bar * Hors d'oeuvre * Silent Auction * Art * Music * Dance * Remarks by Van Jones, a pioneer in the clean energy economy.  Special Performance by Paul Winter.  Contemporary dance performance by Glade Dance Collective. DUMP a collaboration between Kenny George & Alberto Gaitán and a special appearance by the Chevrolet Volt
Exhibit: America I AM: After Hours @ The National Geographic Museum
See the exhibition after work and enjoy performances, complimentary light refreshments from Busboys & Poets, and a cash bar from Langston Bar & Grill. The evening's events will take place throughout all of National Geographic's public spaces.
Must be 21.
Schedule
6:30–8:30 p.m. – Refreshments, Music, & Poetry from Holly Bass, Beny Blaq, Derrick Weston Brown (Dining Hall)
7 p.m. – Because We Are Free (Grosvenor Auditorium)
Actors from African Continuum Theatre Company will perform a dramatization of writings by established playwrights and iconic African-American women—Susie King, Ida B. Wells and Mary McLeod Bethune. The performance covers the Civil War, and the catalyst for migration which followed, to the Western United States in search of "The Promised Land." Creatively interwoven with a musical soundscape, this dramatic piece serves to underscore this importance component of American History.
7:30 p.m. – Woodlawn (Grosvenor Auditorium)
Young Playwrights Theater will present Woodlawn, a new play created collaboratively with residents and organizations throughout Ward 7 in Washington, DC. The play examines the history and heritage of Woodlawn Cemetery, the final resting place of 36,000 extraordinary Americans, many lost to history, until now. Woodlawn explores the value of knowing our history and how learning our history can help us to learn about ourselves, where we've been, and where we may be going.
6:30–10 p.m. – Self-guided tours of the exhibition, America I AM: The African American Imprint (Museum)
Film: New African Films Festival  @ AFI Silver Theatre and Cultural Center
TransAfrica Forum, afrikafé and AFI Silver are proud to present the seventh annual New African Films Festival March 10 to March 15, 2011 featuring the vibrancy of African film making from all corners of the continent.
Music: The Electric Cabaret with Anthony 'Shake' Shakir (Detroit) @ U Street Music Hall
88 presents The Electric Cabaret featuring headliner, Anthony "Shake" Shakir (Frictional Recordings, Detroit), with support from Measax (88, DC) and Bo Hebert & B.Cos (Moog, Baltimore/NYC). A techno producer since 1981, Shakir has had an important role in shaping the early Detroit techno sound associated with acts such as Derrick May and Juan Atkins. While many of his peers focused on increasing their profile in Europe, Shakir worked more closely with the second wave of Detroit techno producers like Claude Young and Mike Banks. His first release, Sequence 10, a hard stripped-down track featuring techno, electro, funk and hip hop influences, was an instant success, in addition to his numerous remixes for the likes of Telex, Inner City and his co-production for Urban Tribe. Shakir's reputation and visibility has risen in more recent years with the development of his two labels, Frictional and Puzzlebox; which have both been credited as major sources for the most raw and pure forms of Detroit techno.
__________________________________________________________
For editorial consideration, please submit your event here:
http://bit.ly/daily-diversions
Tags:
District Diversions
,
Events
,
Washington DC