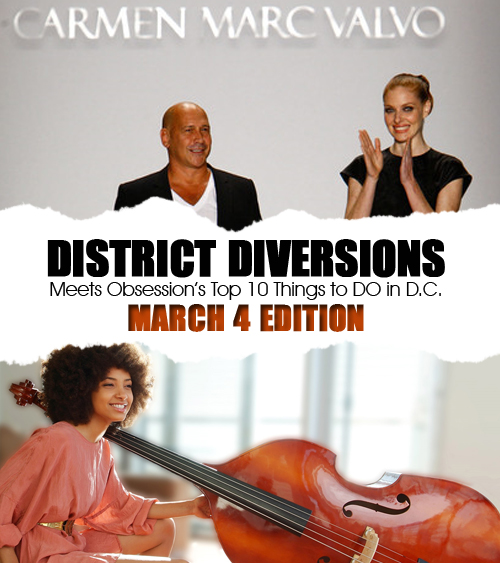 Meets Obsession's Top 10 DC-DO's

Fashion: Cocktail Party & Runway Show Featuring Carmen Marc Valvo
Join the Colon Cancer Alliance for an exciting evening of fashion at Neiman Marcus on Dress in Blue Day! Neiman Marcus at Tysons Galleria will host a Dress in Blue Day cocktail party and runway fashion show featuring renowned designer and colon cancer survivor Carmen Marc Valvo and his spring line.
Music: Esperanza Spalding @ Weinberg Center
Centuries ago, long before the advent of radio or recording technology, chamber music was the music for the masses – the music in which people from nearly every segment of society could find meaning and relevance. A decade into the 21st century, Esperanza Spalding takes a contemporary approach to this once universal form of entertainment with her new project, Chamber Music Society. Inspired by the classical training of her younger years – Esperanza creates a modern chamber music group that combines the spontaneity and intrigue of improvisation with sweet and angular string trio arrangements encompassing elements of jazz, folk and world music into the enduring foundations of classical music.
Restaurant: Café Atlántico's Brazilian Carnaval
José Andrés and the team at Café Atlántico will hold a celebration inspired by the Brazilian festival of Carnaval.

Free tasting of cachaça, a special Brazilian spirit produced from raw sugarcane, featuring cachaça from Leblon and Novo Fogo, *samba* from ZezehBrazil, and *capoeira* from The Ballet Teatro Internacional.
Fashion: 2nd Annual Charity Fashion Show, "Beauty is Skin Deep" to Benefit the Skin Cancer Foundation
Miss Sinergy will be hosting its second annual fashion show, "Beauty is Skin Deep" on Friday, March 4, 2011 at the Embassy of France, located at 4101 Reservoir Road, N.W. Washington DC 20007.  The show will benefit the Skin Cancer Foundation in order to raise awareness on the most common form of cancer found worldwide.  "Beauty is Skin Deep" will bring together the expertise of internationally famous designers including Potomac native and headliner, Daniella Kallmeyer, Maggie Norris Couture, Malan Breton, House of Berardi, Timo Weiland, Tsyndyma, Vincent Licari and Alberto Parada to name a few. Notable Manhattan socialite Alexa Winner will be styling the show.
Local news anchor at WTTG, Will Thomas, will play master of ceremony for this premiere fashion event.  Other celebrity guests will include Princess Margaret-Anne Mazzi of Uganda; Viscount Saava Wampamba; Lucy Sykes Rellie; former fashion director of Marie Claire magazine; Carson Kressley, star of the popular Bravo television show "Queer Eye for the Straight Guy;" Sloane Momsen, actress; Hilary Rhoda, supermodel and face of Estée Lauder cosmetics; and Karie Erskine, wife of Washington Capitals' defenseman, John Erskine, and model for this event.
Exhibit: Opening Reception for "Inspiration" and "Surfaces" @ Touchstone Gallery
Touchstone Gallery is having two great solo shows in March, Michele Cormier's "Surfaces" and Betsy Forster's "Inspiration".
Betsy Forster receives the inspiration for her work from nature. She has a tremendous love for and feels a great spiritual connection with nature. As with a number of northern romantic painters, Forster seeks the supernatural in the natural.
From cracking sidewalks to weathered façades, Michele Cormier captures the deterioration of urban surfaces over time. Erosion, decay and traffic take their toll. What was once a blank canvas becomes a landscape of the inevitable urban condition.
Music: Friday Night Eclectic: Junior League Band @ The Mansion at Strathmore
The Junior League Band is an old-time inspired rock band fronted by the Georgia grown banjo, vocalist, Lissy Rosemont. Based out of Washington, DC, this nationally touring band has been compared to "Alison Krauss and the Band" by The Washington Post, and touts Levon Helm's own horn players on their catchy single "South Carolina Blues." The 5 instrumentalists merge these influences with delta blues and pop rock (50's to Indie Rock) to make for an energetic, sing-song, string heavy, danceable yet mesmerizing live performance. Expect a show ripe with catchy melodies, toe tapping beats, sweet vocals and some of the country's most talented up and coming players.
Performance: WAM 2! The Washington Ballet & The In Series @ INTERSECTIONS: A New America Arts Festival
Young international ballet stars and enchanting opera singers meet in a magical world premier re-envisioning of Mozart's Don Giovanni and Cosi Fan Tutte.
Music: The Gathering ft Karina from Zoo Project + Juan, Jubilee, Navbox, Rosario @ The Loft
Summertime on the balearic island of Ibiza and winter in Berlin is a creative solution for Karina, who likes to make things happen. From organizing her own events in Poland to making the crowd lusciously throw themselves into a decadent dance at clubs, where she plays- Karina Chaczbabian leaves a sound signature.
Uncovering the electronic music landscape, her senses are sharpened by her musical roots- six generations of pianists and violinists make her joke that music in her family is a curse. Always keen to experiment with something outside the traditional house/techno paradigm, her vinyl selection is seductive and laid-back, syncretistic and hypnotic, as well as containing a driving, electronic beat.
Appreciating the basics of Chicago and Detroit, which go smoothly together with the minimized, forward thinking deep house sounds of novadays, Karina is traveling with her black record bag from 1955 (Warsaw) to The Villa (Oslo), Berlin locations to Ibiza's finest open air & record label showcase- Channel Zoo.
Since the desire to create and help push dance music forward is strong and Karina is a hyperactive creature, always wanting more and more, she finds satisfaction in occasionally writing articles for music related magazines, as well as, takes care of the Zoo Promotion in Ibiza.
Exhibit: Postcards From France – Exhibit Opening by Deborah Saks @ Alliance Française de Washington
Deborah Saks discovered her passion for art as a child when she visited the Wallace Collection, the Courtauld Institute and the Louvre Museum.
Later, she travelled to India and Nepal, where she started photographing children in the cities and the Himalayas. Her first artistic venture was when she lived in Paris and began photographing architecture in black and white.  Her inspiration comes from the colors and designs of the different cultures that she has experienced during her travels.
Deborah Saks has notably presented her work at the Corcoran Gallery, the Kennedy Center, and the National Harbor.
Fashion: IPSA IP Fashion Week @ Howard University School of Law
The Intellectual Property Students' Association (IPSA) of the Howard University School of Law is hosting a fashion to conclude IPSA Fashion Law Week.
The Intellectual Property Students Association of the Howard University School of Law presents Fashion Law Week Intelligent Design: Protecting IP in the Fashion Industry. Fashion Law Week will feature a series of events, including a fashion show, to educate students about fashion law and empower designers to protect their creations.
__________________________________________________________
For editorial consideration, please submit your event here:
http://bit.ly/daily-diversions
Tags:
District Diversions
,
Events
,
Washington DC