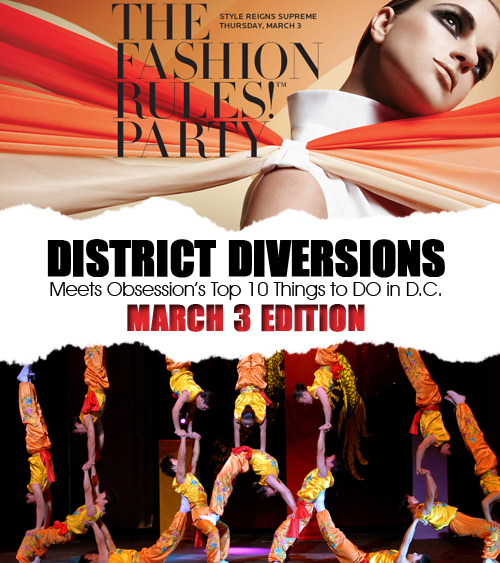 Meets Obsession's Top 10 DC-DO's

Fashion: Fashion Rules! Party @ Neiman Marcus Mazza Gallerie
Be among the first to preview the Christian Louboutin Spring collection while enjoying Kir Royale cocktails. Receive a complimentary monogrammed shoe bag with your regular-priced purchase of the designer's shoes
Join pastry chef — author Rachel Thebault for a signing of her cookbook Sweet Chic: Stylish Treats to Dress Up for Any Occasion, — preview Spring fashion trends inspired by her delicious confections
Performance: Peking Acrobats: 25th Anniversary Tour @ The Strathmore
The Peking Acrobats Silver Anniversary show features all new acts and new twists on old favorites, incredible costumes and special effects. For the first time ever, The Women's Peace Orchestra of China shares the stage with the Peking Acrobats adding a live music component to an already spectacular performance.
Talk/Lecture: Pink Boots and a Machete @ National Geographic Live!
Mireya Mayor's life has been a wild ride. As a former Miami Dolphins cheerleader, Fulbright scholar, television correspondent—currently star of Nat Geo WILD's Wild Nights—and field biologist who discovered a new species of lemur in Madagascar, she energizes audiences everywhere. Join her for an evening of adventure to celebrate her new NG book, Pink Boots and a Machete.
Free: Public Opening Reception: Hamtdaa: Together Exhibition & Celebration @ Artisphere
Artisphere presents Hamtdaa: Together, a multi-disciplinary celebration of Mongolian traditional and contemporary art and culture and Arlington, Virginia's Mongolian-American community March 3 through May 1.
The Hamtdaa: Together exhibition features the work of renowned visual artist and Arlingtonian Gankhuyag Natsag, whose Khuree Tsam dance masks, ceremonial costumes and paintings speak to Mongolia's ancient traditions and contemporary experiences. Accompanied by a multi-faceted program of performances, workshops, films and community celebrations, this exhibition is made possible by a grant from the National Endowment for the Arts.
Benefit: Heart 2 Heart: A Charity Happy Hour Supporting the Go Red for Women Campaign
A Diva State of Mind presents Heart 2 Heart: A charity happy hour benefiting the American Heart Association Go Red For Women Campaign.  Sponsored by Monarch Magazine, MonaVie, Instructions Apparel and DC Fit Week, guests will enjoy $5 drinks, $5 appetizers and a specialty cocktail made specifically for the event. Donation boxes will also be available for all guests to make contributions.
Go Red For Women encourages awareness of the issue of women and heart disease, and also action to save more lives. The movement harnesses the energy, passion and power women have to band together and collectively wipe out heart disease.  It challenges them to know their risk for heart disease and take action to reduce their personal risk. It also gives them the tools they need to lead a heart healthy life.
In honor of the Go Red For Women Campaign, all attendees are encouraged to wear red!
Music: Camp Freddy Benefit Show
CAMP FREDDY, headed up by Billy Morrison (Billy Idol/The Cult), Dave Navarro (Janes Addiction/The Panic Channel), Matt Sorum (Guns N Roses/Velvet Revolver), Donovan Leitch (son of legendary folk singer Donovan), and Chris Chaney (Janes Addiction/Alanis Morrisette) was created for the sole purpose have having a good time. They have, in the eight years they have been together, played an ever-growing list of shows, from the bizarre to the fabulous. Opening the worlds biggest strip club, through shows for Blender magazine, Sony Playstation, Vanity Fair, Grey Goose Vodka and many others, and on to charity shows to help Tsunami and Hurricane Victims, and low key, secret shows in their Los Angeles hometown for Indie 103.1FM, the band continue to play the greatest rock and roll songs in their own beautifully chaotic way. The list of guests that have joined CAMP FREDDY onstage grows longer and more outrageous with each concert. So far, artists such as Moby, Robbie Williams, Ronnie Wood, Stephen Jenkins, Billie Joe Armstrong, Mark McGrath, Slash, Brett Scallions, Macy Gray, Perry Farrell, Wes Scantlin, Billy Duffy, Fabrizio Moretti, Lou Reed, Stephen Perkins, Twiggy Ramirez, Duff McKagan, Sebastian Bach, Kid Rock, Melissa Etheridge, Gina Gershon, Dee Snider, Gavin Rossdale, Steven Tyler, Juliette Lewis, Chad Smith, Jerry Cantrell, Shelby Lynne, Jonathan Davis, Cypress Hill, Ozzy Osbourne and many more have played with the band. They have performed such classics as 'Paradise City', 'Whole Lotta Love', 'Pretty Vacant', 'Jean Genie', 'You Shook Me All Night Long', '20th Century Boy', 'Brown Sugar', 'Should I Stay or Should I Go' … in fact, at last count, the band have had over 150 guest artists appear with them to play over 100 songs.
Free: The Beggar Folk @ Ebenezers Coffeehouse
The Beggar Folk are Josh and Trista Lamb, a band of folk singer-songwriters from Lancaster, Pa. Their music is mellow and intimate—finger-picking, warm harmonies, thoughtful lyrics, and a fierce love for both man and creator have all lead to The Beggar Folk's ability to stir their listeners. Their distinct blend of modern folk+old country lends a natural avenue to their strong storytelling and minimalist roots. Classically trained and seasoned instrumentalists, recent additions Taylor Brandt & Meredith Shaub (violins) & Allison Farris (cello) bring new depth to The Beggar Folk's emotionally driven writings. Their ability to personally connect with each song and translate lyrics to strings is both rare and highly moving.
Reception & Exhibit: Performance of Time and Clouds, Wolfgang Seierl Art Exhibit & Reception @ The Embassy of Austria
Wolfgang Seierl is one of those rare artists who seem too good to be true, being described by a fellow artist as brilliant, unassuming, honest and poetic. His ability to combine multiple disciplines, such as visual arts, compositions and paintings, make him stand out as an artist. This exhibition offers a variety of his so called Virginia Paintings. During his residency at the Virginia Center for Creative Arts in Amherst in July 2010, Seierl studied the Monocan tribe. The tribe inhabited over half of Virginia ten thousand years ago. Speaking in depth with people about their troubled history, provided inspiration for Seierl's Virgina Paintings. Along with the opening of the exhibition The Other, we will present Seierl's composition Time and Clouds. Choreographer Lucy Bowen McCauly has created a dance performance combining composition, art and words. The Bowen McCauley Dance Company will perform the piece. A wine and cheese reception will follow.
Talk: Trading Textiles: Indian Cottons in the Bazaars of Central Asia
The Silk Road connected cultures through the exchange of ideas, goods and precious wares for centuries and allowed for the introduction of cottons produced in India to the peoples of Central Asia. Scott Levi, associate professor of Central Asian history at Ohio State University, will discuss his research into the historical connections between India and Central Asia and how textile trade crossed continents and cultures
Performance: National Symphony Orchestra: Christoph Eschenbach, conductor / Zakir Hussain, tabla / Kelley O'Connor, mezzo-soprano
As part of maximum INDIA, Christoph Eschenbach conducts an NSO-commissioned world premiere from tabla player/composer Zakir Hussain and excerpts from Roussel's opera Padmâvatî.
Indian composer and tabla player Zakir Hussain has earned worldwide acclaim, collaborating with artists as diverse as Yo-Yo Ma, George Harrison, and Béla Fleck. NSO Music Director Christoph Eschenbach conducts the Orchestra, Zakir Hussain on tabla, mezzo-soprano Kelley O'Connor, and vocalists Shankar Mahadevan and Hariharan in the world premiere of Hussain's newest work, an NSO commission written in honor of the Kennedy Center's celebration of India. Combining elements of Hindu ragas and talas, Sufi kalam and Christian church music, Hussain describes the piece as a "concerto for four soloists." Also on the program is O'Connor singing excerpts from Roussel's opera Padmâvatî, drawn from the culminating expression of the composer's fascination with the legends of India.
__________________________________________________________
For editorial consideration, please submit your event here:
http://bit.ly/daily-diversions
Tags:
District Diversions
,
Events
,
Washington DC