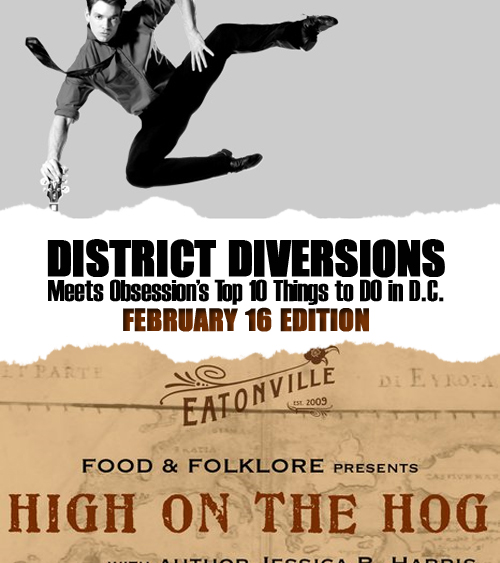 Restaurant & Literary: Food and Folklore: High on the Hog @ Eatonville
For February's Food & Folklore culinary historian and storyteller Jessica B. Harris discusses her new book for which this special dinner is titled — High On the Hog– Wednesday, February 16 at 6:30 PM at Eatonville Restaurant. The menu, prepared by Eatonville's executive chef Garret Fleming, includes West African Shrimp and Spinach Soup; Sweet and Spicy Curried Goat with Chapati Bread and Smashed Plantains; and Banana Fritters.
Performance: The Washington Ballet: Rock & Roll
TWB rocks into 2011 in this triple-threat, triple-bill at Sidney Harman Hall. Featuring Christopher Bruce's energetic and athletic Rooster, set to the music of the Rolling Stones; Trey McIntyre's autobiographical High Lonesome, set to the music of Beck; and a revival of Artistic Director Septime Webre's early hit, Fluctuating Hemlines, Rock & Roll celebrates the heart and soul of the company's artists and a musical genre that continues to electrify the nation.


Party: Ball on the Mall Kick-Off Event

The L'Enfant Society invites you to the Ball on the Mall Kick-Off Event. L'Enfant Society Members receive complimentary admission, entry into door-prize drawings, gift bags, and exclusive benefits throughout the year.
Free: WCP's Best of D.C. 2011 Ballot Party: Free Food! Free Voting!
Vote in over 100 categories for the Best of D.C.! You decide who will be the Best Food and Drink, Best Arts and Entertainment, Best Goods and Services, and Best People and Places.
Music: Slightly Stoopid @ 9:30 Club
With more than a decade of making music together, the members of Slightly Stoopid have perfected one of the rarest and most valuable skills a band can develop: the art of the stealth groove, that knack for quietly, almost innocently, sliding into a composition, and utterly lassoing anyone within earshot by mid-song. That's where the band has come to reside, musically: deep in the pocket, that ever-elusive, funky trench where a band can entrance an audience, hypnotize it and hold on to it until the set or CD is finished.
Music: 3D Presents Goldie @ ULtrabar
The First Superstar Produced by the Breakbeat Jungle Movement, Goldie popularized Drum & Bass as a Form of Musical Expression just as relevant for living-room contemplation as Techno had become by the early '90s. Though he hardly developed the style, and his later reliance on engineers likeRob Playford and Optical to Capture His Sound puts into question his True Musical Importance. Goldie became one of the first personalities in the UK Drum & Bass Scene, His Gold Teeth and B-Boy Attitude placing him LEAGUES away from the Faceless Bedroom BOFFINS that had become the norm in Intelligent Dance Music.
Poetry & Spoken Word: Mothertongue Open Mic And Anti-Valentine's Day Slam
mothertongue – DC women's spokenword – is back with an Anti-Valentine's Day Show with special guests. Featuring Ilse Bendorf (scroll down to see bio) and hosted by the lovely Sarah D. Lawson.
Free: DC Youth Orchestra at the Cathedral
Reilly Lewis has a mission: getting young people to hear, play, sing and love great music. So, every year, the Choral Society gathers students from public, charter and private high schools throughout D.C. for a day of enthusiastic music-making, ending in a grand choral concert in the Cathedral Nave led by Festival Director Benjamin Hutto and featuring NBC4's Barbara Harrison as the reader. The concert is free and open to the public.
Music: The Whale with Hunee @ U Street Music Hall
Future Times' nu-disco freakout "The Whale" returns with underground Berlin house/techno artist, Hunee (Rush Hour, Berlin) Beautiful Swimmers, and Future Times C.E.O., Mondo. Future Times has recently gained worldwide recognition this month as they were nominated as Resident Advisor's Label of the Month. Of the label's sound, RA says, "The tie that binds the Future Times is the openness with which they consume, digest and retell the music of the last four decades. Listen closely enough, and there's Deep Forest, dream pop and easy listening to be found, alongside more fashionable cues to Marshall Jefferson or Giorgio Moroder.
Performance: Savion Glover: SoLo iN TiME @ The Strathmore
Savion Glover returns to Strathmore with SoLo iN TiME. No one has taken tap farther, or explored more fearlessly the concept of tap as sound and sound as dance as tony-winning innovator Savion Glover. Backed by his company of musicians and dancers, Glover returns to Strathmore with his newest show, blending the sensuous, sinuous style of flamenco with the explosive, percussive force of his own innovative style of tap.
Tags:
District Diversions
,
Events
,
Washington DC