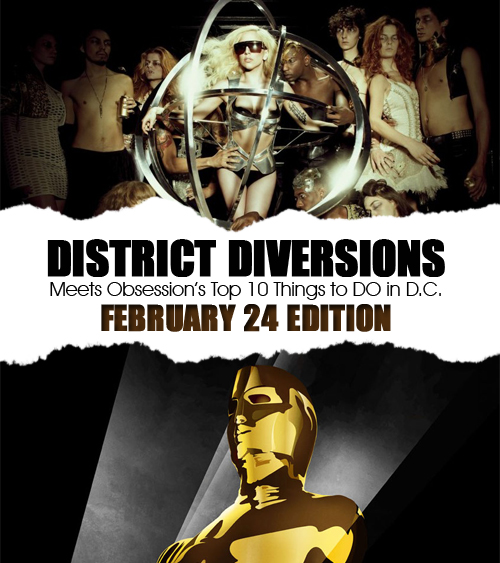 Meets Obsession's Top 10 DC-DO's on Monday
Music: The Monster Ball Featuring Lady Gaga @ Verizon Center
The Monster Ball Tour is the second worldwide concert tour by American recording artist Lady Gaga in support of her second major release, The Fame Monster. Opening act by Scissor Sisters.
Free: 83rd Academy Award Showcase @ The National Archives
The National Archives Experience hosts the seventh annual free screenings of the Academy Award® nominees in four categories—Documentary Feature, Documentary Short Subject, Live Action Short Film, and Animated Short Film.
The screenings are presented by the Academy of Motion Picture Arts and Sciences in partnership with the Charles Guggenheim Center for the Documentary Film and the Foundation for the National Archives.
Once again, the Documentary Feature nominee screenings will be hosted by film critic Willie Waffle. Mr. Waffle appears regularly on DC50-TV and on over 30 radio stations across the country, including WMZQ-FM. He is the author of Back Shelf Beauties: Movies You Should Rent When the New Stuff is Gone, and, along with fellow critics Tim Gordon and Nell Minow, established the Washington DC Area Film Critics Association in 2002.


Art: ArtJamz: Cirque du Dupont Session I

Dupont Circle has a long and storied artistic history – now it's time for you to add your creative imprint to this creative neighborhood while you paint the night away in a historic building overlooking the circle! $60 includes paint, brushes, drinks, hors d'oeuvres, great music, and a canvas that you get to keep.
Music: The Low Anthem @ Sixth and I Synagogue
The Low Anthem's unique brand of Americana makes room for gospel, folk, and blues. Ben Knox Miller and Jeff Prystowsky formed the group in 2006, drawing upon their background as classical composers to help mold the eclectic music. Jocie Adams joined one year later, and the Low Anthem began widening their arsenal of instruments, utilizing everything from World War I pump organs to crotales in the process. After making their independent debut with 2007′s What the Crow Brings, the band rang in 2008 with Oh My God, Charlie Darwin, an album recorded on a remote location 12 miles off the Rhode Island coast. The stark, serene environment proved to be appropriate for the music.
Performance: Nora Chipaumire: lions will roar, swans will fly, angels will wrestle heaven, rains will break: gukurahundi
In provocative and politically relevant multimedia performances, Zimbabwe-born choreographer Nora Chipaumire burns through cultural, creative and geographic boundaries to illuminate the human struggle toward identity. Featuring live music performed by Thomas Mapfumo and The Blacks Unlimited and featuring dance performer Souleymane Badolo.
Music: Revolver @ The Red Palace
After more than 80,000 copies of their first album Music for a While (Disque D'Or award) sold in France, and an 18-month tour punctuated by a double nomination at the Victoires de la Musique in March 2010, REVOLVER made its international début at the Paléo and Montreux Jazz Festival (Switzerland), at the Great Escape in Brighton (UK) and at the CMJ Music Marathon in New York (USA)… Follozing rave musical reviews during the Los Angeles and New York festivals last October, the parisian trio is launching on its first North-American tour at the Red Palace in Washington, DC.
Three dashing parisians, a nomination for Best Début Album & Best Breakthrough Live Act at the French Music Awards, a band name taken from their favorite Beatles album… Meet Revolver and their début album "Music For A While". Production chops go to Julien Delfaud [Phoenix], who helped pull together a century-skipping take on pop music, culminating in references to Simon & Garfunkel, the Beach Boys, & Benjamin Britten. The guitars jangle, the cello hums and Revolver's sunshine harmonies beckon you to enter their universe.
Music: Trouble & Bass DC: Flinch & Canblaster @ U Street Music Hall
Brooklyn's own Trouble and Bass crew returns with DJ sets from Flinch, Canblaster and select T&B crew members. Flinch's hot and heavy melodic bass sound draws from elements of dubstep, house, indie rock, jungle and an early influence from Pavement, Fugazi and TKTK. In addition to 10+ years of production experience, Flinch has had his hands in numerous projects such as Los Angeles indie electro group, Tru Pseudo, his work with 12th Planet, and remixing for Dave Nada and Little Jinder. Flinch is looking forward to more releases set to drop this summer; including a remix for house legend DJ Sneak, and a slew of original music via Trouble & Bass, Smog, Party Like Us and Play Me Records.
Film: The North Africa Film Festival Presents Oscar Nominated Film Outside the Law
The 2011 film festival focuses on the films of Egypt, Tunisia, Morocco, and Algeria. Film screenings and discussions are moderated by leading film directors, critics, and scholars.

Rachid Bouchareb's film follows three brothers who are scattered across the globe after losing their family home in Algeria. Abdelkader becomes a leader of the Algerian independence movement in France; Messaoud joins the French army fighting in Indochina; and Saïd moves to Paris to make his fortune in the shady clubs and boxing halls of Pigalle. Gradually, their interconnecting destinies reunite them in the French capital, where freedom is a battle to be fought and won.
Music: Duke Ellington School of the Arts: 40th Anniversary Celebration: Earth, Wind & Fire @ The Kennedy Center
Join the Duke Ellington School of the Arts for a once-in-a-lifetime performance by the world renowned R&B group Earth, Wind & Fire at the John F. Kennedy Center's Concert Hall.
Earth, Wind & Fire will take center stage for an electrifying concert of jazz and pop, R&B and funk sung with the Duke Ellington School of the Arts Show Choir.
Performance: U.S. Premiere of Francis Huster in La Peste (The Plague) @ La Maison Française at the Embassy of France
Francis Huster is one of France's most well-know actors of the stage and screen. Possessing dark good looks and natural charisma, Huster is adept at drama and comedy and has performed roles of classic heroes to amiable sidekicks. He has been seen by American audiences in Le dîner de cons (The Dinner Game), the original French film that inspired the recently released Dinner for Schmucks. Huster is also a playwright, screenwriter and director, recently directing Jean-Paul Belmondo in Un homme et son chien (A Man and His Dog). Huster is an expert on French Algerian author Albert Camus, having written this one-man-show based on Camus' novel The Plague.
A wine reception to meet the artist will follow the performance.
__________________________________________________________
For editorial consideration, please submit your event here:
http://bit.ly/daily-diversions