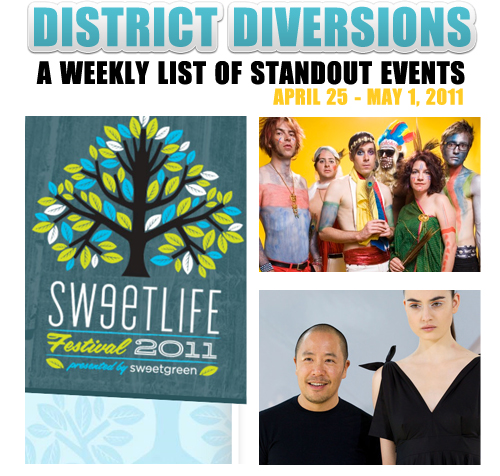 Fil m: U.S. Premiere of "Jimmy Rivière" @ La Maison Française at the Embassy of France
On Tuesday, April 26 at 7 p.m., La Cinémathèque at La Maison Française will screen the U.S. première of Teddy Lussi Modeste's Jimmy Rivière, a touching tale of a young man discovering who he is and what his role should be within his community.
This film, that illustrates the story of one conquering their own individuality, opened in France just this past March! The screenplay was co-written with highly acclaimed director and screenwriter Rebecca Zlotowski, known for her 2010 release – Belle Epine.
Performance: CAPSULE 33 @ Fort Fringe
The story concerns Milo's last day in his capsule, and is laced with interludes of a Japanese electrical worker wiring the building for implosion. Milo is a Serbian intellectual who arrived in Tokyo in the 1990's during the Yugoslav civil wars. He is in a way similar to Nikola Tesla, who spent the later years of his life shunned and only talking to pigeons on the 33rd floor of The New Yorker Hotel on 33rd street.
CAPSULE 33 is constructed only out of recycled materials and does not use power from the power grid for the energy needed to run the show. The entire work is lit by new mini LED lights that are integrated into the scenograhy and run on a 7amp foot powered 'WEZA' power generator. (This small generator is completely green and is commonly used for villages in Africa to power their cell phones). The set is a multi-sided box designed after a Nakagin Capsule that spins 360 degrees both in its upright position as well as when placed on its side, giving many different locations, views, and angles. The work will be performed in Serbian, English and a bit of Japanese. The Nakagin Capsule
Film: BloomScreen presents: Short film selections from FatFilmFest International
FatFilmFest, an Italian short film festival, organized by the cultural association Lelefante, is dedicated to showcasing a diverse selection of outstanding local and international short films spanning fiction, documentary and experimental genres in order to explore different narrative and cultural perspectives often missing from mainstream media and culture.
Theatre: Too Much Light Makes The Baby Go Blind @ Woolly Mammoth Theatre
The Neo-Futurists—masters of creating funny, personal, abstract, political, and poignant plays—return to Woolly with their ever-changing attempt to perform 30 plays in 60 minutes. With audiences deciding on the random order of those plays, every performance is a unique experience not to be missed.
Spoken Word & Poetry: Barcella
Music and spoken word will charm Barcella's audience at this poetic production. A mix of song, prose and passion for performance, this spectacle will engage and encourage its audience to explore literary license.
Mathieu Barcella, a French poet, songwriter and author, has gained much recognition and respect in the world of poetry performance. This 28 year old hailing from Reims, in the province of Champagne, brings his new show to DC for a unique performance at the Alliance Française. This solo act is a rare and exciting opportunity for the youth in Washington DC to experience a unique kind of art that will surely challenge and entertain. Barcella's innovative style brings to light a modern French voice, demonstrating that French language is not only mastered by Proust and Moliere, but by today's comtemporary poets as well.

Wednesday – April 27, 2011

Music: Yelle @ 9:30 Club
"A French pop singer, Yelle released her first album, Pop-Up, in 2007. A bright, colorful, and sassy artist, Yelle (and producer GrandMarnier) first came to prominence after a song entitled "Short Dick Cuizi" was posted on her MySpace page. The track, a jab at TTC hip-hop crew member Cuizinier, was later altered (lyrically at least) and became Yelle's first official single in 2006, "Je Veux Te Voir." – Chris True, AllMusicGuide
Performance: The Inspector @ The Barns
A new comic opera from the GRAMMY-nominated team who brought you Volpone!
The Inspector features singable and expressive melodies in John Musto's accessible but sophisticated style paired with an incisive, yet laugh-out-loud libretto by Mark Campbell.
Fashion: Derek Lam Appearance at Saks Chevy Chase
Fashion designer Derek Lam will present his 2011 Fall/Winter Collection on April 26th from 3pm to 4pm.
Party: The Commitments 20th Anniversary Party!
Join Solas Nua for a party celebrating the 20th anniversary of Alan Parker's iconic film, The Commitments, which charts the travails of Jimmy Rabbitte and his posse of misfits as they attempt to bring soul music to Dublin.

Thursday – April 28, 2011

Music: Of Montreal w/ Painted Palms @ 9:30 Club
Of Montreal is many things. Of Montreal is one of the stalwarts of the Athens, Georgia pop scene. Of Montreal is the recording and performing project of one Mr. Kevin Barnes. And of Montreal is one of the many bands still in operation with a tie to the loose Elephant Six collective of the late '90s, a group of like-minded bands centered around that incredibly fertile Southern college town. Of Montreal is not, however, predictable.
Food & Dance: Argentine Wine Class, Tasting and Dinner
Come and join us for a special Argentine Wine Class, Tasting and Dinner at Divino Lounge in Bethesda. We will taste specialties from Argentina paired with typical argentine wines. Come learn that there is much more than Malbec in Argentina.
Music: Trouble & Bass DC: Mrk1, B. Rich & The Captain @ U Street Music Hall
Thursday will mark the One Year Anniversary of  Trouble & Bass residency at U Street Music Hall.  Guests include MRK1 (Planet Mu, Play Me, Hench, Manchester, UK) and B. Rich (Party Like Us, Pittsburgh) and resident The Captain!



Performance: BYT Presents: Family Hemerlein April Hot Showers Edition

After last month's with magical, estrogen ladden party, Brightest Young Things and Family Hemerlein took to the April challenge seriously and booked some of the most beeeeee-yoooo-ti-ful, talented, hilarious MEN around to hang out with monthly hosts of Matthew Hemerlein (in charge of music) & Seaton Smith (in charge of comedy), your hosts for the evening.
Music: Watcha Clan @ Artisphere
Hailing from the gritty and beautiful city of Marseilles in the south of France, Watcha Clan has been called "one of the most exciting bands on the world music circuit"  by NPR Music.  Watcha Clan's visionary eclectic sound stretches from Gnawa trance and drum 'n bass to hip-hop, Balkan brass and Sephardic folk. It's bass heavy pulsations are countered by Sista K's show-stopping vocals.

Friday – April 29, 2011

Fashion: Trina Turk Trunk Show
Shop Trina Turk's fun and feminine looks from the Spring and Summer 2011 collections and receive styling advice from a Trina Turk Rep. Plus, get inspired by Urban Chic looks created in honor of the Royal Wedding. Enjoy 15% off all Trina Turk merchandise and bubbly and treats while you shop.
Fashion: Undressed Designer Showcase & Fashion Show
Ekon image presents a fashion show which benefits the fight to end sexual violence with guest stylist stylist & designer Phillip Bloch.
Exhibit Opening: Center Arts Reception: Becca Kallem
Join the DC Center on Friday, April 29th at 7:00 PM for the opening of Becca Kallem's art display, which will be featured at the center for a limited time. Come for this chance to experience a truly unique collection of art!
Becca Kallem has been an artist for as long as she can remember. She studied painting at the University of New Hampshire and the College of William and Mary. She has also attended the Chautauqua Sc…hool of Art, had a residency at the Vermont Studio Center, and completed a Fulbright teaching fellowship in Madrid, Spain. She currently teaches painting and drawing at the George Washington University and for Arlington County community centers. Most recently, her work has been exhibited at Artisphere, the Washington Project for the Arts, and the Bowery Gallery in New York, as well as at the Whitman Walker Clinic's Art for Life Auction.
Her recent work is populated by figures painted from life, imagination, and pastiche. Using such sources as self-portraiture, magazine clippings, and figures appropriated from Rococo painting, she creates pieces that deal with the transition from childhood to adulthood, sexuality, and symbols of femininity and masculinity.
Music: Balkan Beat Box @ 9:30 Club
With their roots firmly planted all around the Mediterranean rim and their solid rock+reggae foundations, this New York-based band are the new sensation. Their name, their personal history and the enthusiastic media & audience reactions suggest a link with the so-called Gypsy Rock movement, but their scope is reaching way beyond that: Balkan Beat Box really transcend categories (pop, electronic dance music, world, rock) by creating a new breed of 21st century music, deeply connected to their folk upbringing yet forward-thinking, which appeals to audiences across the geographical and stylistic borders.
Shopping: 8th Annual Georgetown French Market
Superb shopping complimented by the scent of fresh coffee and the sounds of strolling musicians immerse the Book Hill neighborhood of Georgetown as the 8th Annual Georgetown French Market returns on Friday and Saturday, April 29-30, 2011 from 10 am to 5 pm.  This event takes place along upper Wisconsin Avenue, NW, between P Street and Reservoir Road.
Book Hill's signature European open air market features over 30 Georgetown boutiques, antique shops, restaurants and galleries offering savings up to 70% off designer goods, art and antique home furnishings.  The event also features strolling musicians and mimes, children's activities, live music and French cuisine from Georgetown cafes and restaurants.
Exhibit: Hirshorn after Hours
Stay up late and enjoy extended museum hours, curator led gallery tours, DJ, and live music performances. The upcoming event will feature Extreme Animals & DJ Shea Van Horn.

Saturday – April 30, 2011
Exhibit: Openin g – Dataklysmos: [dNASAb] @ Irvine Contemporary
Irvine Contemporary is pleased to announce Dataklysmos, an exhibition of new multimedia sculptures and digital video works by [dNASAb], April 30 – June 4.
[dNASAb] (who goes by "Disney") is a Brooklyn-based artist who constructs complex, multidimensional works that visualize the world of data and the materiality of digital technology in new ways. In the age of hybrid media, the artist has created a name as an acronym for "Disney-NASA-Borg," and works in multidimensional sculptures as a deconstruction of what he sees as the "Disneyfication" of our post-digital imagination. Dataklysmos presents another visualization of our datasphere in the context of Washington, DC, a region that is home to Internet architecture and major connecting nodes for global Internet data traffic.
Music: Peter Bjorn and John @ 9:30 Club
Peter Bjorn and John have been called a lot of things in their time. But one thing they have not been called is 'Supertramp'. This is both a tragedy and a blessing, as the Swedish Rockers and the British conceptual progressive art rockers have next to nothing in common. It is a little known secret that Björn, John and Peter (who shall from now on be referred to as Peter, Björn, and John), met in the summer of some time ago, in the small fishing village of Bysthållare on the west coast riviera of their native Sweden.
Their bond: instant. Their style: Jazz. Peter is a semi?qualified pirate, with only 4 more plank walks remaining before his graduation to Private Pirate. He has a ship, called 'Spongebob' moored in The Pirate Bay, in Sweden. Björn is a musical misfit in sheep's clothing, and can recite on demand the full lyrics to Mike Oldfield's Tubular Bells, in reverse, while holding a piña colada. Just ask! John was famed in his local shopping mall for only using escalators to ascend to the next floor. To this day he still demands motionless stairwells to motorize his journey upwards. He has spent many weeks standing and shouting on the bottom step of any one of the 1005 staircases that adorn his apartment. Nobody could have guessed what the future held for these 3 professional chat show hosts. Despite numerous visits to psychics, prophets, wizards, and fishmongers, not one person guessed that they would be the authors and performers of the 3rd most successful song (featuring whistling) of all time. – Ed Warren December 2010
Theatre: Lyena Strelkoff presents Caterpillar Soup
Master Storyteller Lyena Strelkoff captivates in this intimate, one-woman play about her true-life odyssey following a spinal cord injury. Fierce, funny, candid, smart and deliciously romantic, Caterpillar Soup offers irresistible stories revealing the transformational power of loss and celebrating life in all its messiness. Caterpillar Soup "never ceases to be compelling." – Daily Variety
Film: Science Fiction Double Feature
Join us as we unearth the archives and bring you two world premiere Sci-Fi thrillers in SCIENCE FICTION DOUBLE FEATURE. Prepare for Monsters, Mad Scientists, and Robots – all live, late night, and in full color! Embrace the experience with two Midnight Shows or our special 8pm matinee for the weak of heart. Guaranteed to be the best time around in this or any other nebula.
…Written by Company Members Lee August Praley and Seamus Sullivan
Directed by Lex Davis and Ryan Maxwell
Featuring Company Members Blair Bowers, Zachary Fernebok, Kristen Garaffo, Colin Grube, and Michael Saltzman with Luke Cieslewicz, Ali Daniels, Alice Gibson, Katie Jeffries and Matt Sparacino.
Design and Production by Company Member Chelsea Kerl with Jason Aufdem-Brinke, Ben Levine, Patrick Lord, Neil McFadden, Camilla Morrison, and Joe Musumeci

Sunday – May 1, 2011

Festival: Marcātus – Creative Art Market
Marcātus, a creative art market near the Nationals Ballpark, will be a multidimensional event different than any other to reach the District. Marcātus invites you to come out for the whole day to enjoy the sounds of live music, smells of exotic foods, eye candy of art, to hunt for creative treasures, or simply to relax on the Great Lawn with a frosty beverage taking in the picturesque views of the Anacostia River.
Music & Festival: The Sweetlife Festival 2011 Featuring the Strokes & Girl Talk
The Sweetlife Festival is an annual celebration of flavorful music, wholesome food, and thoughtful living. A festival with a soul, the day will not only rock you with top national talent, but will delight your tastes with delicious and hearty grub from local farmers, and sing to your conscience by vowing to be a carbon neutral event.
The Sweetlife Festival is presented by sweetgreen, Washington D.C. based restaurant group that leads the national charge in sourcing delicious local and organic ingredients, with an underlying commitment to the environment, and their community.
Tags:
District Diversions
,
Events
,
Washington DC