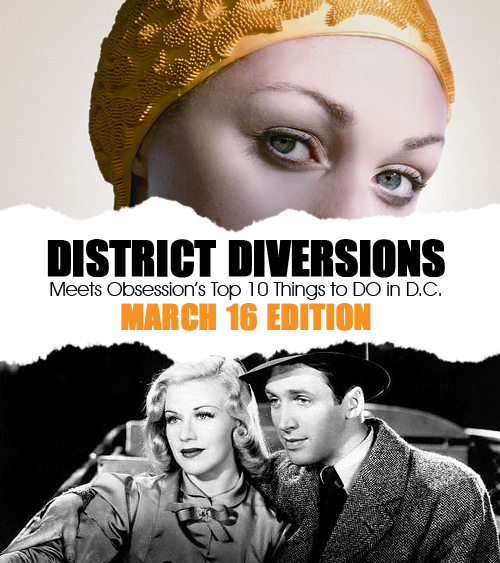 Meets Obsession's Top 10 DC-DO's

Theatre: PENELOPE @ Studio Theatre
At the bottom of a drained swimming pool, four jealous suitors dressed in Speedos and terrycloth robes woo a beautiful young woman. In Enda Walsh's extraordinary riff on Homer's Odyssey, Penelope's surviving admirers tangle with prophecy and mortality as they contemplate the return of her husband…and the end of their lives.
Film: Vivacious Lady  and  Stage Door  at Backwards and in High Heels: Ginger Rogers Centennial Retrospective @ AFI
July 16, 2011, will mark the centennial of one of Hollywood's greatest leading ladies, Ginger Rogers. Best known as one half of the most famous dancing duo in filmdom, Rogers enjoyed great success with her nondancing roles as well, many notable for their directors and costars, including THE MAJOR AND MINOR (directed by Billy Wilder), MONKEY BUSINESS (directed by Howard Hawks, costarring Cary Grant and Marilyn Monroe), ROXIE HART (directed by William Wellman, based on the same source play as the hit musical CHICAGO), VIVACIOUS LADY (directed by George Stevens, costarring Jimmy Stewart) and KITTY FOYLE, for which she won the Best Actress Oscar. All ten of Rogers' films with Fred Astaire are featured in this series, showcasing the duo's dynamic dance artistry. Though many consider Astaire the single greatest dancing talent in film history, a punch line from the Bob Thaves' comic strip "Frank and Ernest" has become a much-quoted appeal for equal credit and equal rights: "Sure he was great, but don't forget that Ginger Rogers did everything he did…backwards and in high heels."

Film: Cinémathèque screening of Moolaadé @ the Avalon
Set in a small African village, four young girls face a ritual "purification" flee to the household of Colle' Ardo Gallo Sy, a strong-willed woman who has managed to shield her own teenage daughter from mutilation. Colle' invokes the time-honored custom of moolaade (sanctuary) to protect the fugitives, and tension mounts as the ensuing stand-off pits Colle' against village traditionalists.
Comedy: Neil Hamburger @ The Black Cat
Neil Hamburger is America's Funnyman. Or is he the World's Worst Comedian? It all depends on your perspective. Whether you're laughing with him or at him, this is going to be one funny night.
Restaurant: Old Glory Presents Irish Whiskey Cigar Dinner
Celebrate the Luck of the Irish and St. Patrick's Day with an Irish Whiskey & Cigar Dinner at Old Glory BBQ in Georgetown! The 4-course Irish dinner with whiskey pairings will he hosted on Wednesday, March 16 starting at 7 p.m. atop Old Glory's heated rooftop patio.
Benefit: Raining Arts and Dogs!!!  A Night to benefit the Washington Humane Society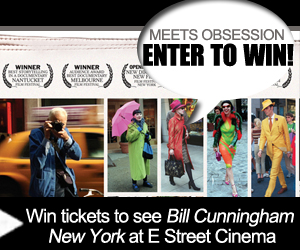 Come join the finest crowd at the finest venue! Eat, drink, chat, create art with your friend or watch somebody else do it (SO FUN!)

Film: Four Women @ The Kennedy Center
This film is a searing and thought-provoking drama revolving around four elemental female characters in the south Indian state of Kerala: The Prostitute, The Virgin, The Housewife, and The Spinster.
Theatre: Morgue Story @ 1409 Playbill Café
The U.S. premiere stage adaptation of the Brazilian underground film hit Morgue Story.
Morgue Story: Sangue, Baiacu e Quadrinhos (Morgue Story: Blood, Blowfish, and Comics) was adapted from the original screenplay by its author, Paulo Biscaia Filho, artistic director of Vigor Mortis, Brazil's celebrated Grand Guignol-inspired theatre company. Filho also is a Professor in the Faculdade de Artes de Parana in Curitiba, Brazil.
In the script, a famous comic book artist, frustrated with her personal relationships, meets two weird men with equally weird lives. One is a perverted sociopathic coroner; the other is a chronically cataleptic insurance agent. They could only meet in one place: The morgue.
The cast of Morgue Story includes Luke Cieslewicz, Kevin Finkelstein, Dave Gamble, Genevieve James, Heather Whitpan and Alex Zavistovich.
Performance: NHK Symphony Orchestra with Conductor André Previn
Founded over 80 years ago and boasting a host of acclaimed conductors throughout its history (Dutoit, Ashkenazy, and Blomstedt, to name a few), Japan's leading orchestra visits Strathmore this spring.
Libations: Artini Feature Night at PS7's
In anticipation of ARTINI, join the 1869 Society Steering Committee and ARTINI Host Committee for ARTINI Feature Nights.
Each of ARTINI's participating venues will host one feature night, during which they will donate 20% of its bar sales to support upcoming exhibitions at the Corcoran. Mingle with fellow 1869 Society Members and sip the featured artini for a great cause!
Go to www.washingtonian.com/artini to vote for your favorite, beginning March 8. Then, join the 1869 Society at the Corcoran on April 2 for the culminating ARTINI benefit, where D.C.'s favorite artini and the Critics' Choice selection will be revealed.
__________________________________________________________
For editorial consideration, please submit your event here:
http://bit.ly/daily-diversions
Tags:
District Diversions
,
Events
,
Washington DC