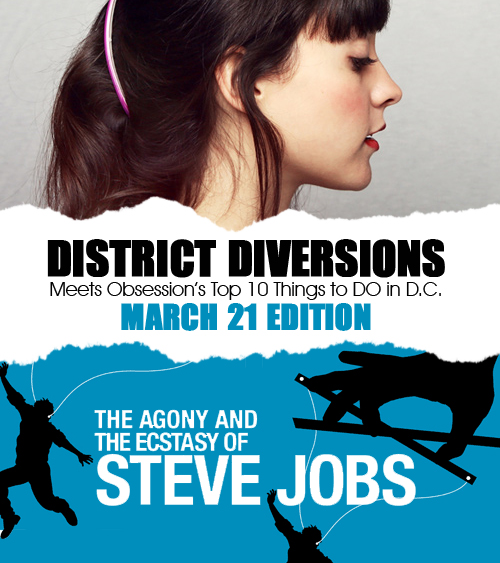 Meets Obsession's Top 10 DC-DO's

Music: Polock and Russian Red @ Sixth and I Synagogue
Fresh off of the release of their debut album Getting Down From the Trees, Polock was named NPR's Album of the Month. While compared to the sounds of Phoenix, these indie-rockers have a look and feel all their own and their known overseas for their "catchy, breezy" vibe.
Set to release her second album this spring, Russian Red (Lourdes Hernández) – one of Spain's most popular artists – has a style reminiscent of the simple, poetic approach of Joanna Newsom. Her first album, I Love Your Glasses, attained Gold status and lead El País to deem her the "revelation of the year." Catch both young Spanish stars on our Downstairs stage on their way to SXSW.
Theatre: The Agony and The Ecstasy Of Steve Jobs @ Woolly Mammoth
In The Agony and The Ecstasy Of Steve, Mike Daisey pulls back the curtain veiling America's most mysterious technology icon. With a wickedly funny tale of pride, beauty, lust, and industrial design, Daisey illuminates the war—from China to Silicon Valley—over how we see our world, and the human price we pay for our high-tech toys.
Mike Daisey has been called "the master storyteller" and "one of the finest solo performers of his generation" by The New York Times. His fearless forays into undesirable places (such as Foxconn factories in China, or the Trinity atomic bomb site in New Mexico) have resulted in countless performances on five continents, the Bay Area Critics Circle Award, four Seattle Times Footlight Awards, the Sloan Foundation's Galileo Prize, and a MacDowell Fellowship. He and his wife and director Jean-Michele Gregory have collaborated on his groundbreaking monologues (including Woolly's If You See Something Say Something, The Last Cargo Cult, and How Theater Failed America) for ten years.

Food & Spirits: Birch & Barley + Churchkey's Inaugural Whiskey & Beer Tasting
Join Birch & Barley as Beer Director Greg Engert showcases some cutting-edge whiskeys alongside some his favorite craft-brewed ales. Greg will lead the tasting of three whiskeys alongside three whiskey barrel-aged brews and also speak to the small bites, imaginatively prepared by Chef Kyle Bailey, that will be paired to each of these tipples.
Benefit: DC Water For People – World Water Day Celebration @ Ulah Bistro
Join the DC Water For People at Ulah Bistro, as they host their 4th Annual World Water Day Happy Hour with special happy hour prices on drinks and appetizers at Ulah Bistro.
Partnering once again with Bartending 4 Change – a nonprofit organization founded in 2007 to raise money for local charities – proceeds raised will go towards our ongoing efforts to raise awareness around the lack of safe drinking water and adequate sanitation faced by millions around the world. All tips earned that evening by Bartending 4 Change as well as 10% of Ulah Bistro's proceeds will be donated to Water For People. Cover charge is $5 and once again we will have a raffle for amazing prices.
Food & Wine:2009 Cru Beaujolais Tasting @ Mon Ami Gabi
Join Mon Ami Gabi for an evening with a tasting of the highly praised 2009 vintage of Beaujolais. We will taste & learn about ten different Cru Beaujolais wines presented by Henry Fessy winemaker, Laurent Chevalier, and sample some of Mon Ami Gabi's classic bistro fare. The vintage is the best in many decades, with some wines capable of ageing for 10-20 years. Rest assured we will entertain your vino palette!
Film: Black Ocean @ The Environmental Film Festival
Washington, D.C. Premiere Between 1966 and 1995, France conducted more than 170 nuclear tests over the Pacific Ocean. The training and daily tasks aboard a French naval vessel in 1972 provide a rhythm to days that would otherwise drift into one another. Three teenage sailors perform forced push-ups in full gas masks amidst the sweltering heat. The commander is cruel and the boys' only solace is in caring for the ship's pet dog. Despite their blossoming friendships, the boys are unable to share what they have most in common – a sense of unshakable solitude. Even when they stop for shore leave at destinations of tropical paradise, the fun is bracketed by an insidious foreboding of things to come. As they watch the mushroom cloud of a nuclear explosion rise up in the distance over the ocean, they are completely ill equipped to grasp its significance. With solemn beauty, this film observes the social orders men set for themselves when separated from society, and the codes of killing and friendship that guide men in uniform. This is an idyll with a dark heart. (—Cameron Bailey, Toronto International Film Festival) Directed by Marion Hänsel.
Introduced by Roland Celette, Cultural Attaché and Director of La Maison Française, Embassy of France.
Shown with OF FORESTS AND MEN (France, 2011, 7 min.) The United Nations mandated Yann Arthus Bertrand to produce the official film for the launch of the International Year of Forests, 2011. Following the success of his film Home, seen by 400 million people, the photographer created a 7-minute short film on forests filled with aerial images from Home and the "Earth from Above" television series. Produced by Yann Arthus-Bertrand.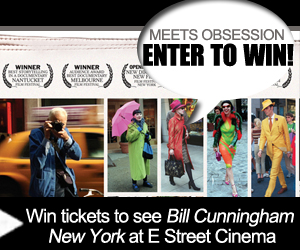 Film: Vincent Scully: An Art Historian Among Architects
Probably the best-known living art historian in the United States today, Vincent Scully was, until recently, still teaching at his alma mater, Yale University, where a wide variety of students were drawn to his undergraduate history of art and architecture courses. In his lectures and his more than 20 books on architecture, Scully's insights are eye-opening and have inspired the work of such modern architects as Frank Lloyd Wright, Louis Kahn, Robert Venturi and Aldo Rossi. He has focused on topics ranging from the late 19th-century American Shingle Style, which he identified and named, to a reassessment of Greek temples and their response to the surrounding landscape. The breadth and depth of his knowledge, which includes a close familiarity with literature as well as with the visual arts, lends a special richness to his historical interpretations. This film explores the phenomenon of Scully, tracing his connection to New Haven, where he was born, and to Yale from the time he entered as a freshman in 1936 to the present. It follows the arc of his interests in classical art and architecture to American architecture, historic preservation and urban design in the 20th century.
Introduced by filmmaker and Checkerboard Film Foundation Founder Edgar B. Howard. Discussion with Edgar B. Howard follows screening.
Talk: Mary Karr and Lyrae Van Clief-Stefanon @ Folger Elizabethan Theater
Mary Karr is known for her memoirs, but it's her four volumes of poetry— Sinners Welcome, Viper Rum, The Devil's Tour, and Abacus—that shine with a fervent beauty. Her memoir, The Liars' Club, was a New York Times bestseller for more than a year. Her follow up, Cherry, was a bestseller for The Boston Globe and Los Angeles Times. Her third memoir, Lit, was named best book of 2009 by many publications including New York Times Book Review, The New Yorker, Entertainment Weekly, Time, and more. She received a Guggenheim Fellowship for Poetry in 2004 and is now the Jesse Truesdell Peck Professor of Literature at Syracuse University.
Lyrae Van Clief-Stefanon is the author of ]Open Interval[, a finalist for both the 2009 Los Angeles Times Book Prize and the National Book Award, and Black Swan, winner of the 2001 Cave Canem Poetry Prize. She is an assistant professor of English at Cornell University. Paired with Karr, she explores with a powerful and honest touch what is beautiful and broken about life.
Food & Wine: Italian Wine Tasting @ Twisted Vines
There is so much more to Italian wines than Pinot Grigio and Chianti… and we've got an amazing line up for you!
Georgetown Alumnus Paul Jameson of the Jameson Wine Experience will take you through each of the major wine regions of Italy and help you explore varietals that you may not have tried before.
You will have the opportunity to sample 8 fabulous Italian wines.
Music: Tres Mountains @ Black Cat
Doug Pinnick of King's X, Jeff Ament of Pearl Jam and Richard Stuverud of The Fastback perform songs from their Three Mountains album.
__________________________________________________________
Important News About District Diversions
We're condensing District Diversions to one list of handpicked events for the entire week!
Starting next week, District Diversions will be published once a week (Monday) covering all the best events to attend in DC.
You'll get your events earlier! You'll have more time to plan your DC-do's, and in some cases, you'll know where to go 7 days before the event has launched.
A smaller list with better events! We'll be able to be even more selective with the events that we choose ensuring that quality trumps quantity.
Want to know more? Be  sure to check out our first weekly District Diversions on Monday, March 28.
__________________________________________________________
For editorial consideration, please submit your event here:
http://bit.ly/daily-diversions
Tags:
District Diversions
,
Events
,
Washington DC