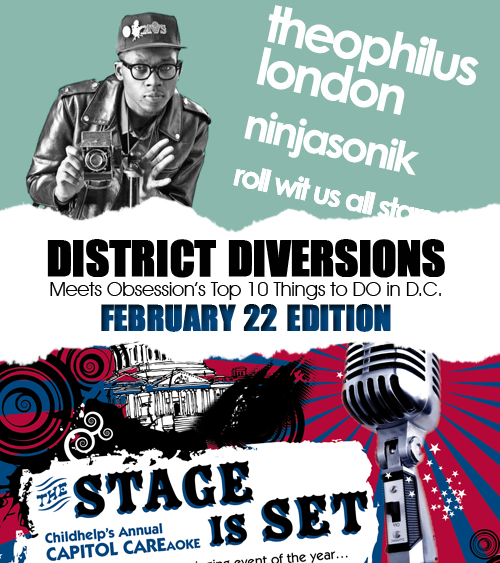 Meets Obsession's Top 10 DC-DO's on Monday
Benefit: Capitol CAREaoke
Politicians, journalists, and sports personalities are used to being in front of a microphone — but only one night a year do they do it in harmony! Once again, the stage lights will shine on Childhelp's Capitol Careaoke — the singing event of the year.
Music: Theophilus London, Ninjasonik & Roll Wit Us All Stars @ U Street Music Hall
U Street Music Hall presents live performances from Theophilus London, Ninjasonik and Roll Wit Us All Stars. Brooklyn-based electro/hip hop artist, Theophilus London has gained massive popularity throughout the underground rap world, ever since he first released the Jam! mixtape in 2009; followed by mixes, This Charming Mixtape and I Want You. Now signed to Warner Bros, London is scheduled to release his debut full-length album in early 2011, rumored to feature collaborations with Devonte Hynes (Lightspeed Champion), Dave Sitek (TV on the Radio) and John Hill (noted for producing alongside Santigold). London most recently appeared on David Letterman, performing his latest single, Why Even Try, featuring Sara Quin of Tegan & Sara.


Networking: DC Fashion and Beauty Blogger Meetup @ Dirty Martini

DC Fashion Week kicks off the week of February 21st – so what better time to get the fashion and beauty bloggers of DC together for a meetup happy hour! Whether you are a current blogger, thinking about starting, or are just interested in meeting up with fellow DC area fashionistas and friends, join us on Tuesday, February 22nd at Dirty Martini for happy hour specials and great company!
Libations: Vermont's Long Trail Brewery Launch Party
Some wonderful brews are coming all the way from Vermont this month, so we're rolling out a hearty welcome mat for these guys. Join us at Rustico in Alexandria for the Long Trail Brewing Company's official launch event and an evening with head honcho and brew master-in-chief Brian Walsh. He will be on hand all evening to talk – and no doubt indulge – in his brewery's excellent beers. We will be featuring no fewer than seven different Long Trail brews on draft, all listed below, which will be joined on their journey by two killer Long Trail cask ales. And we couldn't be happier. Long Trail's casks rarely leave New England which, in short, means we're able to pass a little extra glee-in-a-glass along to our loyal, beer-loving friends. Oh, and let's not forget, free glassware from the brewery, until it lasts of course.
Fashion: DC Fashion Week
Colors of the Oasis: Central Asian Ikats at the Textile Museum
Literary: Be Worldwise: A Conversation with Tony Kushner
Pulitzer, Emmy, Obie, and Tony award-winning playwright and screenwriter Tony Kushner "gives voice to characters who have been rendered powerless by the forces of circumstances – a drag queen dying of AIDS, an uneducated Southern maid, contemporary Afghans" according to The New Yorker.
Professor Emeritus in English Jackson Bryer sits down for an intimate conversation with the dynamic author of Caroline, or Change, Steven Spielberg's Munich and the epic masterpiece Angels in America.
Spoken Word & Poetry: Beltway Poetry Slam featuring Gayle Danley @ The Fridge DC
Gayle Danley won the 1994 National Individual Slam Poet in Ashville, NC just months after being exposed to Slam poetry. In Heidelberg, Germany, she became the 1996 International Slam Poet Champion.
Feeling blessed to be able to share her talent and motivational words with audiences across the country, Gayle launched her one-woman show, "Brilliance," touching thousands with her Slam Poetry workshops, lectures, performances and speeches. Gayle has published three books: "Naked," "Soulfull—A Slam Poetry Study Guide," and "Passionate—Poems You Can Feel."
Film: BloomScreen presents: My Mother's Journey @ Bloombars
A film about the power of the individual and the courage it takes to make societal change. "My Mother's Journey" tells the story of Elizabeth "Liz" Hampton – an African American woman who moved from the South to the North and became an unlikely activist in upstate New York during the civil rights era.
After the screening, you are invited to stay for a discussion with local filmmaker, Sam Hampton, PhD. Free Popcorn and refreshments will be available to enhance your movie-watching experience.
Theatre: The Comedy of Errors @ Folger Theatre
A shipwreck, one of Shakespeare's favorite launching devices, starts off this comedy's craziness of coincidence and confusion. Antipholus and his servant Dromio journey from Syracuse in search of their long-lost, identically named twin brothers. Their arrival in Ephesus sets off a chain of mishaps as the twins are mistaken for each other, culminating in a climax of comedic chaos.
Music: Julieta Venegas @ State Theatre
Julieta Venegas Percevault (born November 24, 1970 in Long Beach, California, USA) is a Mexican American singer, instrumentalist, and songwriter, who performs Spanish-language rock and pop music. Venegas grew up in Tijuana and began studying music at the age of eight. She went on to join several bands, including Tijuana No!, before starting a career on her own. In addition to singing and writing her own songs, she plays instruments including acoustic guitar, accordion, and keyboard. She has won five Latin Grammys and one Grammy. She has sold more than 7 million albums worldwide.
__________________________________________________________
For editorial consideration, please submit your event here:
http://bit.ly/daily-diversions
Tags:
District Diversions
,
Events
,
Washington DC